[Updating] Premier Craig Cannonier has paid tribute following the passing of F. John Barritt, who served as Speaker of the House from 1979 – 1989.
Premier Cannonier said, "It is with sadness that I learned this morning of the passing of the Hon. F. John Barritt, CBE, long-time Speaker of the House of Assembly.
"Mr. Barritt was a community servant in every sense, serving people through his church and as a longstanding Member of Parliament for Devonshire South, Government Minister and Speaker of the House for ten years from 1979 to 1989.
Mr. Barritt is pictured below with his son John Barritt in 2010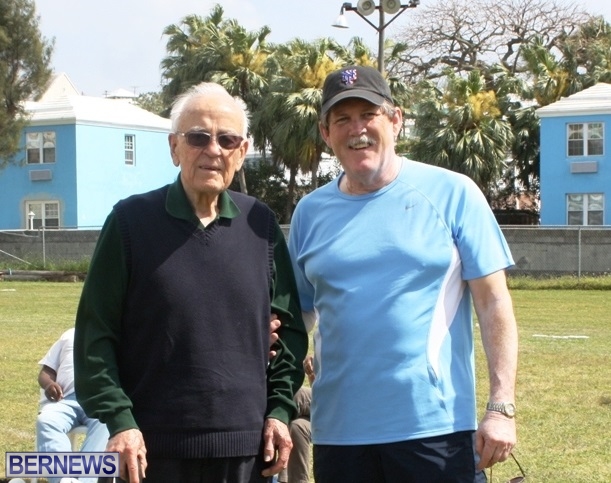 The Premier added, "He was by all accounts an excellent MP, always approachable and ever caring; a man who looked after his constituents' needs and the affairs of the country.
"In his time in the Speaker's chair, Mr. Barritt was regarded as a fair and wise man, whose calm and civil demeanor helped keep the lid on an often fractious House of Assembly.
"On behalf of the Government, I extend our sincere condolences to Mr. Barritt's family, and take this opportunity to express thanks and appreciation for his service to his beloved Bermuda. May he rest in peace."
Update 12.41pm: Mr. Barritt was born in Bermuda on the 14th February 1916. He attended Woodlands School and Saltus Grammar. He married Hilary Pantry of Paget on the 2nd October, 1944 and they had four children: Jennifer, John, Mark and Martha-Jane.
Mr. Barritt was elected to the House of Assembly in 1968 as UBP Member of Parliament for Devonshire South. He was Minister of Transport in the two administrations between 1968 and 1973 and from that year to the next, he was Minister of Marine & Air Services.
Mr. Barritt served as Deputy Speaker of the House for three years before his ascension to the Chair in 1979, and resigned from the Speaker's Chair in February 1989, just prior to the General Election.
He represented Bermuda on many occasions abroad. In 1970 he was the leader of the Bermuda delegation to the Commonwealth Parliamentary Conference in Australia and he attended a C.P.A. Conference in Nova Scotia in 1974. He also attended three Presiding Officers' Conferences in 1975, 1977 and 1979. These Conferences were held in St. Kitts, Montserrat and the Turks & Caicos Islands.
Mr. Barritt was involved with a number of businesses for over 40 years. From 1933 to 1970 he was with Powell and Company Ltd., and was Managing Director when the firm was acquired by Purvis Limited.
The Hon. F. John Barritt was awarded a CBE in the Queen's Birthday Honours in 1983.
Update 1.44pm: Chairman of the One Bermuda Alliance Thad Hollis said, "The Hon Frederick John Barritt, CBE, JP, was one of the best known and most respected members of the United Bermuda Party.
"Mr Barritt, who was MP for Devonshire South from 1968 to 1989, also served as Speaker of the House of Assembly between 1979 and 1989. He served in the Cabinet as Minister of Marine and Air Services and as Minister of Transport.
"He was an intelligent, gracious and even-tempered man, whose calm, but firm grasp of the debate in the House of Assembly won him respect and admiration from MPs on both sides of the House.
"I would like to offer our most sincere condolences to his family, and especially to his son, former OBA member John Barritt, who played such a major role in the formation of this party."
Update 1.55pm: A statement from the Opposition said, "The Progressive Labour Party offers our condolences to the family of former Speaker the Hon. F.J. Barritt, CBE on his passing.
"Speaker Barritt served Bermuda as an MP for many years and sat in the Speaker's Chair from 1979-1989. We would like to specifically pass our condolences on to his son, the former MP of Devonshire South Central, John Barritt, who continued on the family tradition of serving the Bermudian people in politics. "
Read More About