"More wet and potentially noisy weather conditions on the way for late tonight into tomorrow," the Bermuda Weather Service said, adding that "last Saturday's early wake up call was just a start to more rain, showers, and thunderstorms that are expected to arrive after midnight tonight."
The BWS has issued a Thunderstorm Advisory valid for late tonight through Tuesday morning, and their forecast states, "Nearby high pressure ensures more fine and dry weather today. However, conditions quickly deteriorate overnight as deepening low pressure to the west steers strengthening winds, rain and showers into the area with the risk of thunderstorms."
File photo of lightning over Bermuda in 2014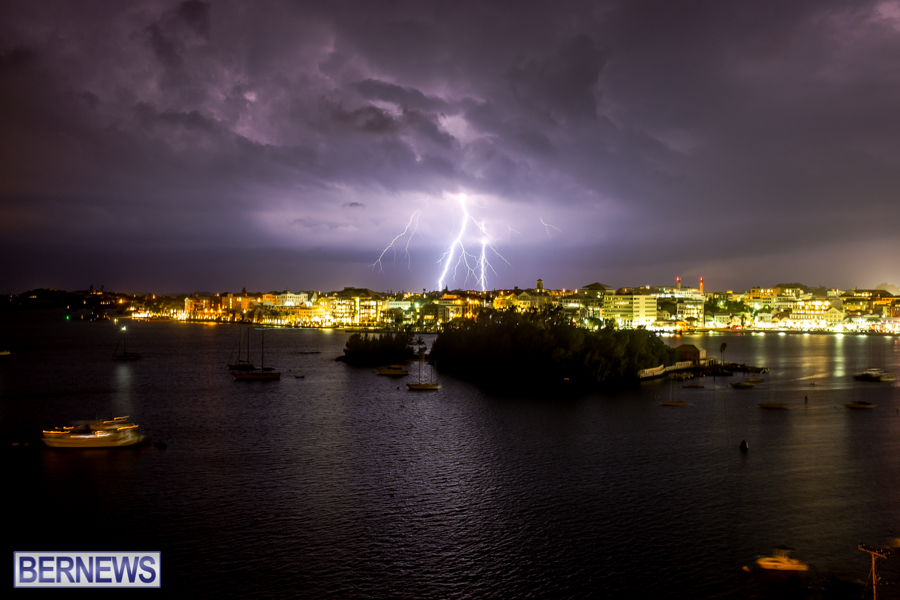 The Bermuda Weather Service posted  on social media, saying: "More wet and potentially noisy weather conditions on the way for late tonight into tomorrow. Last Saturday's early wake up call was just a start to more rain, showers, and thunderstorms that are expected to arrive after midnight tonight.
"Some quick bits of information regarding lightning:
"At any given moment, there can be as many as 2,000 thunderstorms occurring across the globe. This translates to more than 14.5 million storms each year. NASA satellite research indicated these storms produce lightning flashes about 40 times a second worldwide
"Tall objects such as trees and skyscrapers are commonly struck by lightning. Mountains also make good targets. The reason for this is their tops are closer to the base of the storm cloud. However, this does not always mean tall objects will be struck. It all depends on where the charges accumulate. Lightning can strike the ground in an open field even if the tree line is nearby.
"Lightning is the most underrated weather hazard. Lightning can strike more than 10 miles away from the location of rainfall.
"More information can be found here. Keep up to date with the latest forecast details at: www.weather.bm and stay safe Bermuda!"
Read More About
Category: All