Earlier today, on board the MV Celebrity Summit cruise ship, the Minister of Business Development and Tourism Patrice Minors joined Royal Caribbean Cruise Line International in presenting $15,000 in scholarship funds to students pursuing careers in hospitality.
Pictured below, left to right, RCCI Michael Ronan, Jollande Greaves, Joliza Vanderpool, Michiko Campbell, Minister Patrice Minors and Kostos Nestoroduis, Captain of the Celebrity Summit: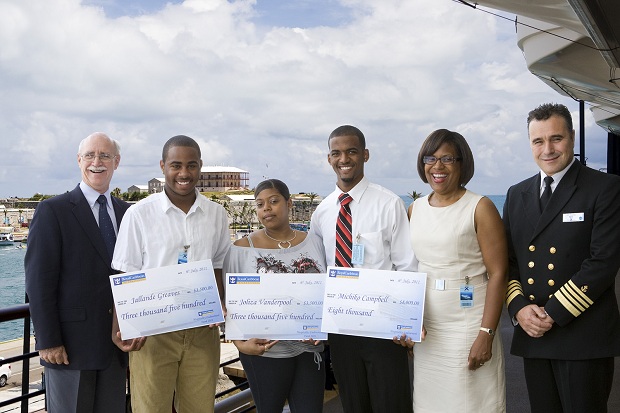 One of the scholarship winners was Michiko Campbell who is studying Culinary Arts and Food Service Management at Johnson and Wales University, Miami Florida. Mr Campbell attracted quite a bit of attention after building – and flying – two 6 foot Bermuda style kites at his Miami school this past Easter.
Joliza Vanderpool was also awarded a scholarship, she is studying Professional Baking Fundamentals, Modern Pastry Craft and Culinary Techniques in Canada. The third recipient is Jallande Greaves – who is studying Travel Tourism and Hospitality Management at Johnson and Wales University, Miami, Florida.
Minister Minors said, "Thank you for joining me today to mark this very significant occasion between the Bermuda Department of Tourism, the Ministry of Transport and one of our most respected and valued tourism partners – Royal Caribbean Cruise Lines International."
"Nothing gives me greater pleasure than to highlight the success and accomplishments of those Bermudians who are pursuing careers in the hospitality industry. And this annual event provides us the perfect forum to do just that."
"We have always maintained that this Government firmly believes that the future of Bermuda tourism lies with our young talent here at home, and the Bermuda Department of Tourism takes its role very seriously in doing its part to develop these future leaders of our tourism industry."
"Over the past several years, we have showcased this commitment by spearheading several initiatives aimed at supporting those Bermudians who wanted to get involved in careers associated with the hospitality industry."
"The David Allen Memorial Internship Programme is one such example where we have afforded many young people an opportunity to gain a greater understanding of the tourism product. And the Royal Caribbean Hospitality Endowment Fund is another initiative that we are very proud to be associated with."
"For more than a dozen years now, this programme has donated hundreds of thousands of dollars in scholarship funds to more than 60 young Bermudians to assist them in tourism related studies."
Read More About