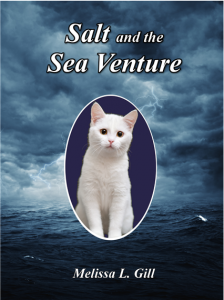 Bermuda's early history is explored in a unique and playful fashion in a new book by author Melissa L. Gill, with an adventurous cat acting as an unobtrusive set of eyes aboard the Sea Venture as it makes its original unplanned landing on Bermuda's shores.
The book's description says, "The shipwreck that saved America. The year is 1609. Salt is a scruffy, white alley cat looking for a new life. When he hears that the Sea Venture is sailing to the New World, he knows this is his chance.
"Life on the Sea Venture is full of fun and excitement, even though Salt has to deal with the aristocratic Angoras, the exclusive Feline Guild, and the territorial ship's cats. But then a huge tempest threatens to sink the ship. The passengers labor for days to keep the ship afloat and Salt expects the ship to sink at any moment. But luckily they wreck off the island of Bermuda.
"The island holds many new adventures, but Salt is determined to get to the New World, so when the humans build two more boats, he joins them. They make it to the New World, but find a horror there that none of them expected. Eventually the story of the shipwreck reaches England and inspires William Shakespeare to write his play, the Tempest.
"Salt and the Sea Venture is a middle grade, historical fiction novel, suitable for children aged 8 through 12."
The author said, "I have always loved cats. Their independent nature, combined with their unconditional love speaks to my own personality. In school, my favorite subject was American History. Add to that the fact that I have been a fan of juvenile literature since I first read, Little House on the Prairie and it seemed natural to want to write something that combined my love of cats, American History, and juvenile literature.
"When I read the story of the Sea Venture by Kieran Doherty, I knew I'd found a topic for my first juvenile historical fiction novel. I found Salt, a scruffy alley-cat, to be the perfect point of view. He acts as an unobtrusive observer to the little known, but world changing history, unfolding under his paws."
Read More About
Category: All, Entertainment, History