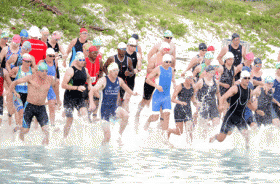 Tucker Murphy and Karen Smith are the 2014 AON Triathlon Male and Female Champions following racing action on Sunday [June 29] at Southside.
Murphy — a Winter Olympian who will also represent Bermuda at the upcoming Commonwealth Games — was second out of the water with a time of 13:50.
He then clocked the 3rd fastest bike time of 33:25 and then he completed the run course with a time of 19:03 breaking the tape in a time of 1:07:01.
Kent Richardson was able to hold on to second clocking a time of 1:10:21 out legging Mark Robinson at the line who was clocked at 1:10:22. Karen Smith finished 5th overall with a time of 1:12:04. Laurie Orchard was the second female finisher and 6th overall with a time of 1:13:33 and Belinda Castree was the third female finisher and 16th overall with a time of 1:18:04.
The results, courtesy of Bermuda Timing, are below [PDF here].
Read More About