A report in the UK's Daily Mail over the weekend highlighted "the swimming pigs of Bermuda" – the only problem being that we don't have swimming pigs, with the article having confused us with the Bahamas.
The headline initially read, "The swimming pigs of Bermuda become YouTube stars," and the story went on to mention the Bahamas.
The Daily Mail did correct the headline, but not before causing some confusion for their readers.
"Geographical nightmare…where are these pigs? Bermuda? Bahamas?," asked one reader, while another thought the pigs were traveling between the two islands, saying, "They are amazing animals if they swim from the Bahamas to Bermuda."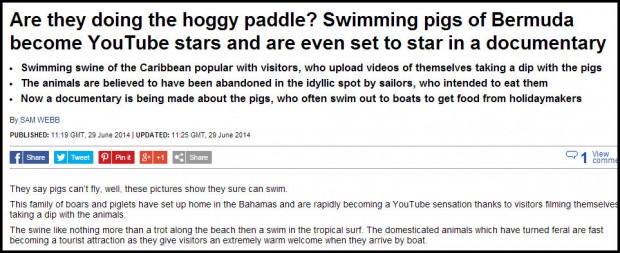 The Daily Mail article said, "They say pigs can't fly, well, these pictures show they sure can swim. This family of boars and piglets have set up home in the Bahamas and are rapidly becoming a YouTube sensation thanks to visitors filming themselves taking a dip with the animals."
"The swine like nothing more than a trot along the beach then a swim in the tropical surf. The domesticated animals which have turned feral are fast becoming a tourist attraction as they give visitors an extremely warm welcome when they arrive by boat.
"Now filmmaker Charles Allan Smith is shooting a documentary that hopes to uncover how the animals first took to the water. The pigs are thought to have been introduced to the island by passing sailors who may have thought they would make a good food source."
Bermuda did, of course, play host to wild hogs centuries ago, with the sounds of hogs squealing said to have contributed to the island being called the "Isle of Devils" at one point in history.
The hogs are said to have been brought to the island by Spanish explorer Juan de Bermúdez and Gonzalo Fernández de Oviedo in 1514 or 1515, who dropped off a breeding stock of hogs on the island as a future stock of fresh meat for passing ships.
Centuries ago, Bermuda's first coins were actually called 'hog money', named after the wild hogs found roaming on the island by the first settlers, and Bermuda's currency still highlights this fact, with a pig featured on the penny.
One of the Youtube videos the article referred to:
Read More About
Category: All