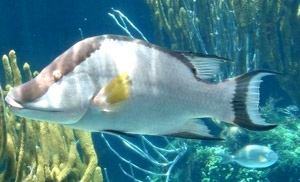 A Hogfish at the Aquarium developed a tooth problem and proceeded to grind the offending tooth up and down the tank window scratching the acrylic surface, the Bermuda Aquarium, Museum & Zoo [BAMZ] newsletter said.
BAMZ said photos of the scratches were sent to an expert overseas for removal estimate, which was a "staggering" $15,000.
The newsletter said: "In November, our male Hogfish, on display in the Northrock tank, developed a tooth problem with one of its large, incisor-like teeth. This was evident by how the fish indicated to us it had a problem.
"Over the course of one day he proceeded to grind the offending tooth up and down the main display window of the tank. Normally, this wouldn't cause a problem with a glass window; however, the Northrock tank windows are made of acrylic.
"Acrylic is a lighter material, as durable as glass, and easy to work with but much softer and scratches easily. In that one day, the Hogfish ground his displeasure with his tooth from one side of the acrylic window to the other, prompting us to remove him immediately before any more significant damage could be done."
The Hogfish was transferred to a smaller tank with a glass window and he was successful in removing the problem tooth on his own. The scratches will be removed by divers from US-based Exhibit Solutions in early February.
- Photo via BAMZ
Read More About
Category: All, Environment, News