Bermuda's Jah-Nhai Perinchief finished 8th overall in the high jump at the 2014 Youth Olympic Games in China, recording a leap of 2.00m after qualifying for the "A finals" after equaling his personal best in the preliminaries.
Danil Lysenko from Russia won the gold with a jump of 2.20m, Yuji Hiramatsu from Japan claimed silver with a leap of 2.14m, while recording the same height but finishing in third was Shemaiah James from Australia.
Screenshot of the official results of the A Finals: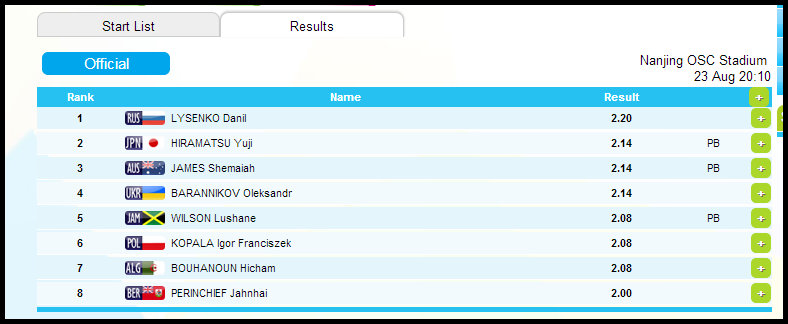 Perinchief's 8th place finish at the Youth Olympics follows after his medal winning showings at the 2014 CAC Junior Championships in Mexico and the 2014 CARIFTA Games in Martinique.
The Youth Olympic Games are held every four years, welcoming international competitors aged 14 to 18. The first summer Youth Olympic Games were held in Singapore in 2010, with the Winter Games following in Austria in 2012. China is hosting the 2014 edition of the summer Games from 16 August to 28 August.
Read More About