[Updated] Emergency services gathered at the LF Wade International Airport tonight [Aug 19] after Thomas Cook Flight 135 diverted to the island for a sick passenger, landing at approximately 9.30pm.
The flight which departed from the Frank Pais International Airport in Holguin, Cuba was on route to London Gatwick Airport in England, when at approximately 8.45pm the pilot made the decision to divert to disembark the passenger.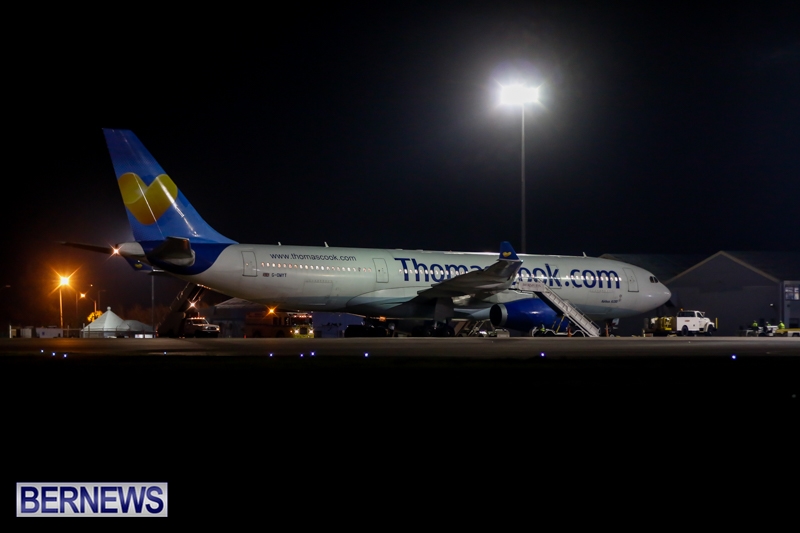 The Bermuda Fire and Rescue Service and hospital staff were on hand at the main terminal when the plane came to a stop. The sick passenger was transferred to an awaiting ambulance and transported to King Edward Memorial Hospital for treatment. After taking on fuel, the flight continued on to its original destination, departing Bermuda at approximately 11.20pm.
Update August 20: A police spokesperson said, "At 8.43pm on Tuesday, August 19, police received a report of an Airbus 330, Thomas Cook Airlines Flight number TCX135 from Cuba to Gatwick, UK, diverting here regarding a 14-year-old female who reportedly had difficulty breathing and abdominal pains.
"The aircraft landed safely and female victim as well as both her parents were conveyed to KEMH, where she was treated and later discharged. The flight then continued on to Gatwick."
Read More About