[Updated] Earlier today [Aug 29] the Premier and Minister of National Security, Michael Dunkley welcomed three members of the Bermuda Regiment to the Cabinet Office.
The Officers are embarking for Kenya this weekend. Lt. Paolo Odoli, CSgt Jason Smith, and Sgt Dejion Stange will be travelling to the African nation for two months to participate in extensive tactical training, affording them the opportunity to gain first-hand real employment experience in various military roles.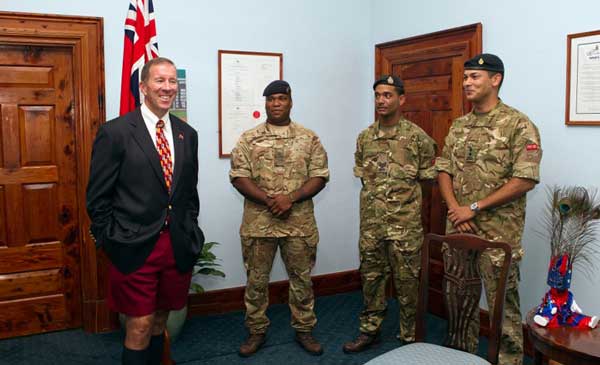 The Premier said of the upcoming visit, "It was a pleasure to meet these young men and to wish them well as they travel to Kenya to represent the Bermuda Regiment.
"The opportunity presented itself and they have jumped at the chance to broaden both their military knowledge as well as their international exposure. I am certain they will do well and return better equipped to play the important roles we demand of them in the Regiment and in this community."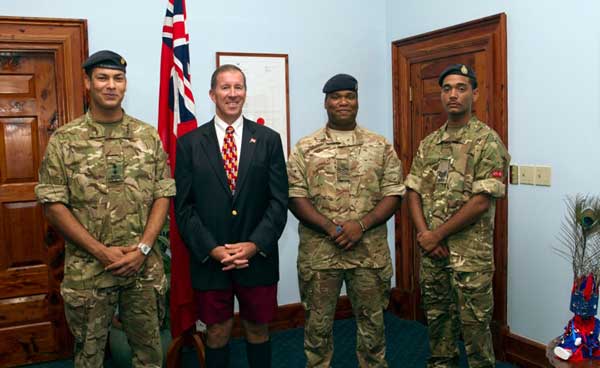 Update 8.00pm: The three will leave this weekend to travel to England to meet up with the Welsh Guards Battle Group before flying to Kenya on military transport for the six-week Askari Thunder.
Capt. Odoli said: "The two main advantages is that we, as commanders and part of the long-stay nucleus will get exposure to opportunities that will make us stronger commanders.
"And exercises like this are a huge incentive for people to stay in the Regiment longer – this is a once-in-a-lifetime opportunity.
He added: "It also gives us the opportunity to forge closer links with units in the UK and it'll make further training opportunities easier because of the contacts we will make."
C/Sgt Smith – who has been on exercises in Gibraltar, Germany and Morocco – said: "It will be a great experience.
"And the Regiment will gain because it will get far more experienced commanders as a result because it will be very different and we will be exposed to exercises on a much larger scale than we can do."
Sgt Stange added: "We will gain a huge amount of education and knowledge. I was very keen to go – it's an experience I just wouldn't get any other way."
Regiment Commanding Officer Lt Col Michael Foster-Brown added: "They will be living in the bush and take part in platoon and company exercises, culminating in a big battle group exercise.
"It will be very demanding training with a regular British Army battalion with support.
"The benefit for us is from a scale point of view – we cannot replicate that size of exercise and the chance to give our soldiers experience of all the other elements of a battle group will be very valuable.
"It's a chance to tap into the experience of people who have served in Afghanistan and Iraq and see the complexities of how a battle group works which will be of huge benefit to these guys as they progress through the Regiment."
The Regiment said, "Askari Thunder training involves more than 1000 infantry troops, with support from engineers, medics, artillery and RAF and Royal Navy helicopters.
"Troops operate in daytime temperatures of at least 40 degrees Centigrade and they are equipped with hi-tech GPS trackers and laser attachments for rifles, which are picked up by special vests to accurately gauge shooting skills."
Update Sept 2nd: The British Army are covering all costs for this, except for the flights from Bermuda to UK and the wages of the Bermuda soldiers.
Read More About