The Athletic Club will be hosting the 1st annual Thinner Winner Contest Kick off on Saturday, October 4th and the Finale Party on Friday, November 15th, 2014 in Victoria Park.
A spokesperson said, "With 68% of our country men and women being overweight and 80% of health care dollars being spent on diseases that are almost entirely preventable by diet and exercise alone, The Athletic Club has been promoting wellness in the workplace and community for 30 years. Thinner Winner, is a community based, fitness and nutrition overhaul assisting participants in losing 10-12 pounds and 8-10 inches over the course of six weeks. The aim is to help Bermuda lose 1000 lbs."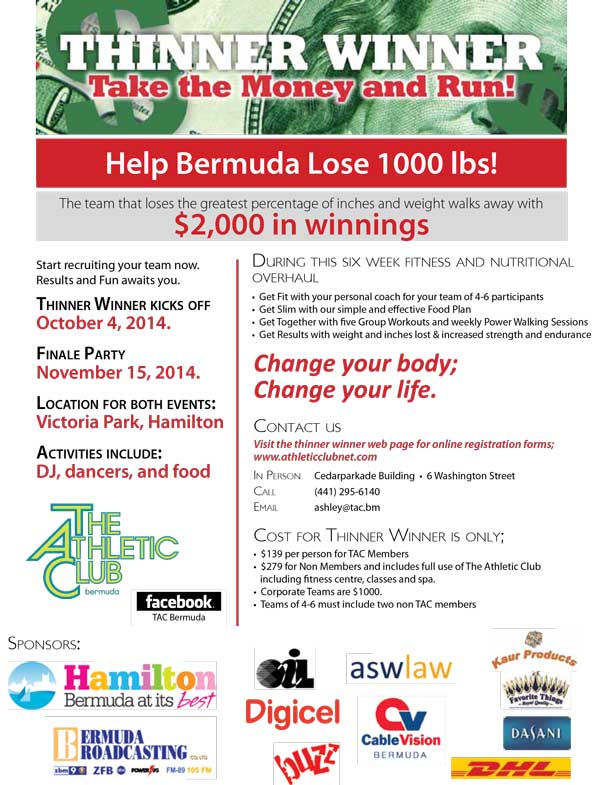 They continued, "Thinner Winner keeps fitness fun by having people team up in groups of four to six working together, with a personal coach, to motivate and keep each other accountable. They will participate in weekly special Thinner Winner workouts such as HIIT, Piloxing, Zumba and Tabata circuit based training with our highly qualified trainers.
"Weekly Power Walking Sessions with Race Walking Champion, Sinclair Smith, will also be offered. Participants will have complete access to The Athletic Club fitness centre, classes and spa during the program. Food Guides will be provided to each participant, taking the guesswork out of the eating plan. At the end of the six weeks, the Teams that lose the greatest percentage of weight and inches win a monetary prize of $2000!"
"We are honored to help shape up Bermuda," said Owner of The Athletic Club, Kym Herron Scott. "It's a win-win situation. The challenge helps reduce health care costs, improves work productivity and creates happier, healthier Bermudians.
"Last year, during our debut of this program, participants shed 985 lbs. Our Biggest Loser, Juliette Richardson lost 23.5 pounds and the Inch Worm Award went to Verlicia Scott losing a whopping 27 inches."
"We are pleased R. Wayne Scott and Hon. Jeanne Atherton, will be saying a few words at the Kick Off to launch this important event. City of Hamilton has been very supportive as our major sponsor.
"Other sponsors include ASW Law, Oil, Cable Vision, Buzz, DHL, Digicel and Bermuda Broadcasting. Healthy products were provided by Kaur Products, Favorite Things and Dasani water to our participants and in over 200 gift bags handed out to various companies around Hamilton."
The Athletic Club is currently enrolling participants for the Thinner Winner. To secure a space for your team or as an individual, call 295-6140 or email ashley@tac.bm.
Registration forms are available on Facebook page and their official Website.
Read More About
Category: All