Free 2014 PGA Grand Slam of Golf tickets are now available for the Bermuda public to collect at the pro shops of Port Royal Golf Course and Turtle Hill Golf Course, with hundreds of people already picking up their tickets today [Sept 8], according to organizers.
"This is our way of offering a sincere thank you to Bermuda for welcoming the PGA Grand Slam of Golf to the island over the past eight years," said David Charles, Senior Director of Championships for the PGA of America earlier this month when the promotion was announced.
"It has been a spectacular run. We're confident the last Grand Slam in Bermuda will be the best one yet."
Edward Tucker collects free PGA Grand Slam of Golf tickets at Turtle Hill Golf Course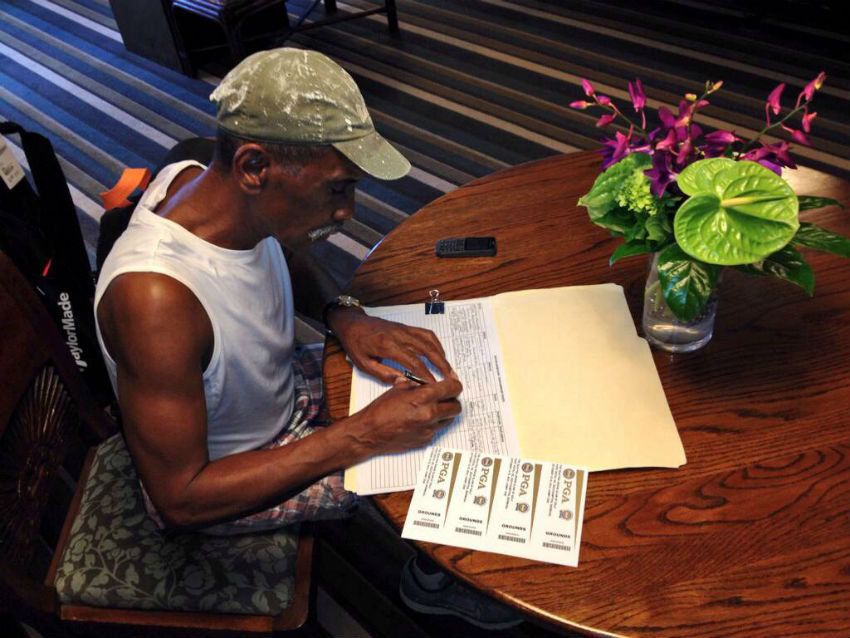 The final day to collect free tickets is October 10. After that date, the ticket price will be $20 each day. Each fan will be permitted up to four complimentary tickets, good for any day of the Grand Slam.
Mr. Charles said, "It's true what they say about Bermuda and the hospitality of its people The PGA of America is so grateful for the friendliness and professionalism it has enjoyed over the past eight years. Offering free entry is the sincerest way we could think of to show our appreciation to the country."
The final PGA Grand Slam of Golf in Bermuda takes place from October 13 to October 15, featuring four Major champions, including Bubba Watson [Masters], Martin Kaymer [U.S. Open], Rory McIlroy [PGA and Open Championships], and Jim Furyk [2008 Grand Slam Champion].
Mick Ward collects free PGA Grand Slam of Golf tickets at Turtle Hill Golf Course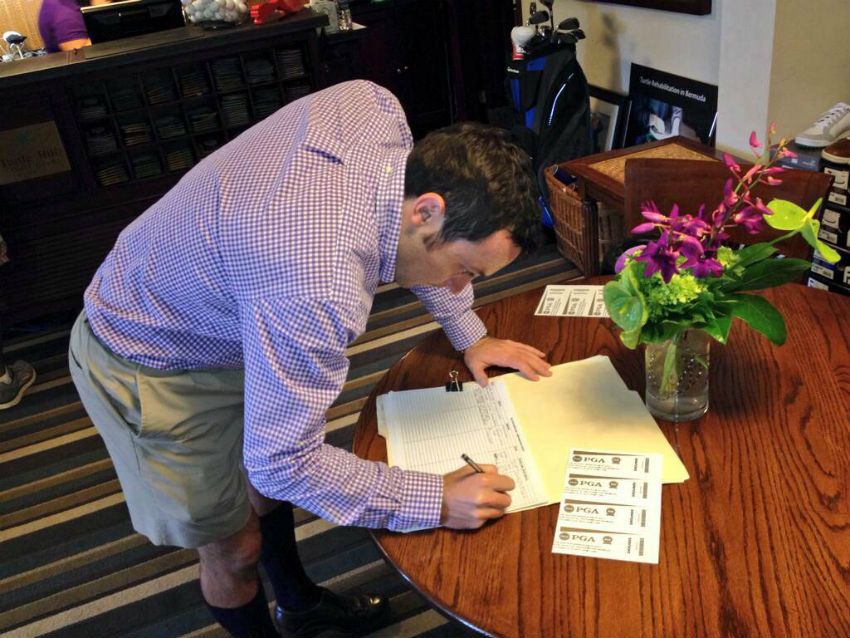 The Grand Slam is broadcast to a worldwide audience on TNT and is hosted by the Bermuda Tourism Authority, Port Royal Golf Course, and the Fairmont Southampton.
Ticket-carrying fans are allowed to get closer to the pros at the Grand Slam than at any other competitive golf tournament. Because there is only one group during the event, spectators are permitted to follow the players down the fairways of every hole – standing just a few feet from the action in some cases.
The PGA Grand Slam of Golf features a $1.35 million purse, with the winner receiving $600,000, second place $300,000, third place $250,000, and fourth place $200,000.
Read More About