With a Hurricane Watch now in effect as Hurricane Gonzalo bears down on Bermuda – directly on the heels of Tropical Storm Fay – island residents are working to prepare themselves for the storm's effects.
On that note, below is the Emergency Plan for the General Public released by the Bermuda Government Emergency Measures Organisation [EMO], a 32-page document that advises of the steps that should be taken before, during, and after an emergency situation.
Latest track map for Hurricane Gonzalo [courtesy BWS]: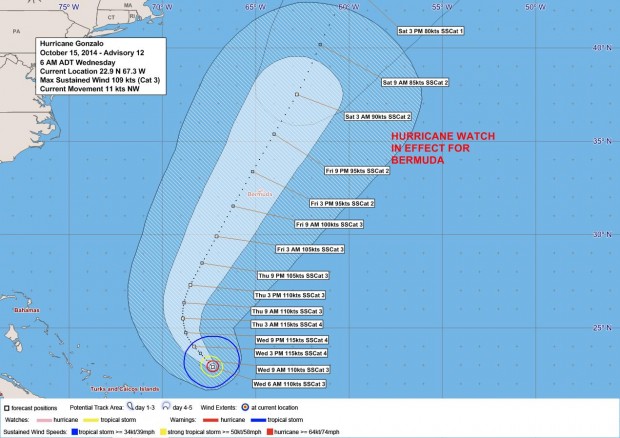 The latest information from the Bermuda Weather Service [BWS] indicates that Hurricane Gonzalo's closest point of approach to the island within 72 hours is forecast to be 44 nautical miles west-northwest at 12.00pm on Friday [Oct 17], when it will pass as a category 2 or category 3 hurricane.
For all our coverage of Tropical Storm Fay click here, for all our coverage of Hurricane Gonzalo click here, and for our live blog covering both Gonzalo and Fay click here.
The Emergency Plan for the General Public follows below [PDF here]:
Read More About