[Written by Talbot Wilson] In spite of Hurricane Gonzalo's thrashing of the Onion Patch last week, the Royal Bermuda Yacht Club and the people of Bermuda are ready to host the 2014 Argo Group Gold Cup, Stage 6 of the Alpari World Match Racing Tour [AWMRT]. All 20 teams have arrived safely from their corners of the world and will practice for a day and race on Wednesday.
Bruni defeated Robinson in racing in the Quarter Final stage of the 2013 Argo Group Gold Cup at the Royal Bermuda Yacht Club. [Photo credit: Talbot Wilson]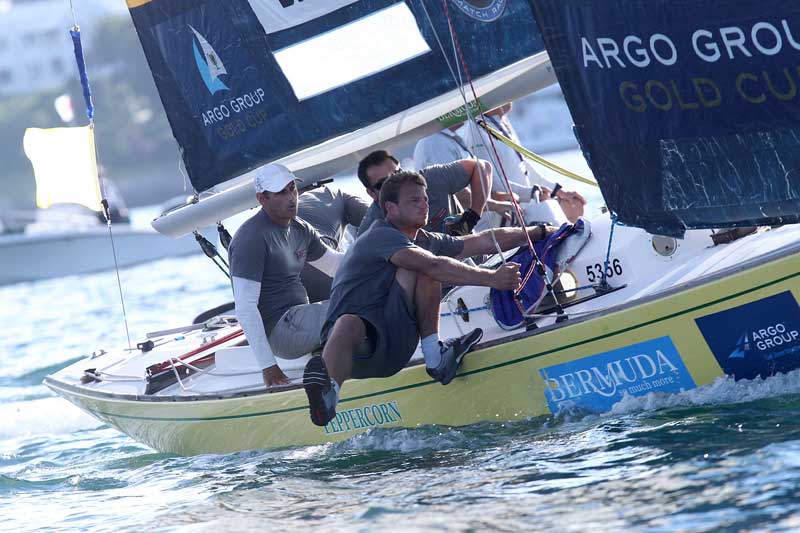 Thirteen countries are represented in the 2014 Argo Group Gold Cup. The teams have been divided into two groups of 10 for the Qualifying Session round-robin knockout matches:
Group 1 features Tour leader leader Ian Williams [GBR] GAC Pindar, Bjorn Hansen [SWE] Hansen Sailing Team, Keith Swinton [AUS] Team Alpari FX, Francesco Bruni [ITA] Luna Rossa , Pierre Antoine Morvan [FRA] Equipe de France, Johnie Berntsson [SWE] Stena sailing Team, Arthur Herreman [FRA] Match the World, David Storrs [USA] Pequot Racing Team, Somers Kempe [BER] Raymarine/Ocean Electronics, and Dirk-Jan Korpershoek [NED] Opportunity Team.
Group 2 is led by 2nd on the Tour Taylor Canfield [ISV] Team One, Mathieu Richard [FRA] Luna Jet, Phil Robertson [NZL] WAKA Racing, David Gilmour [AUS] Team Gilmour, Staffan Lindberg [FIN] Alandia Sailing Team, Eric Monnin [SWI] Swiss Match Racing Team, Marek Staqnczyk [POL] www.470sailing.org.pl , Chris Poole [USA] Riptide Racing, Lance Fraser [BER] DigiCel Bermuda, and Nathen Outteridge [SWE] Artemis Racing.
Seedings in the groups are based on AWMRT and ISAF rankings and other performance factors. Teams sail a 10-team Round-Robin knock-out elimination within their group. Then the top four teams from each group move on to directly to the knockout phases with Quarter Finals, Semi Finals and Finals scheduled. There is no second-chance Repechage sail-off in the Argo Group Gold Cup… 12 teams are beached at the end of the Round-Robin Qualifying matches.
Group 1
Williams, Ian – 2 – 1 – GBR- -GAC Pindar
Hansen, Bjorn – 4 – 4 – SWE – Hansen Sailing Team
Swinton, Keith – 9 – 5 – AUS – Team Alpari FX
Morvan, Pierre-Antoine – 2 – 8 FRA – Equipe de France
Berntsson, Johnie – 16 – 18 – SWE – Stena Sailing Team
Herreman, Arthur – 20 – 13 – FRA – MATCH THE WORLD
Bruni, Francesco – 37 – ITA – Luna Rossa
Korpershoek,Dirk-Jan – 42 – NED Opportunity Team
Storrs, David – 43 – USA – Pequot Racing Team
Kempe, Somers – BER – Raymarine/Ocean Electronics
Group 2
Canfield, Taylor – 1 – 2 – ISV – US One
Richard, Mathieu – 3 – 3 – FRA LunaJets
Robertson, Phil – 5 – 6 NZL – WAKA Racing
Monnin, Eric – 6 – 13 – SUI – Swiss Match Race Team
Gilmour, David – 10 – 7 AUS – Team Gilmour
Linberg, Staffan – 11 – FIN – Alandia Sailing Team
Poole, Chris – 19 – USA – Riptide Racing
Stanczyk, Marek – POL – www.470sailing.org.pl
Fraser, Lance – 64 – BER – Digicel Bermuda
Nathan Outteridge – SWE Artemis Racing
The 2014 Argo Group Gold Cup will be sailed with the same 20-team format used in 2013. This Argo Group Gold Cup format is unique on the Alpari World Match Racing Tour. It starts with Qualifying in two 10-team groups. Skippers in the groups are ranked and divided by Alpari World Match Racing Tour officials and the organizers at the RBYC.
2014 Alpari World Match Racing Tour Standings after Stage 5
Ian Williams [GBR) GAC Pindar 94pts
2 Taylor Canfield [ISV] US One 88pts
3 Mathieu Richard [RA] LunaJets 76pts
4 Bjorn Hansen [SWE] Hansen Sailing 63pts
5 Keith Swinton [AUS] Team Alpari FX 58pts
6 Phil Robertson (NZL] WAKA Racing 56pts
7 David Gilmour [AUS]_ Team Gilmour 39pts
8 Francesco Bruni [ITA] Luna Rossa 20pts
Read More About