[Written by Talbot Wilson] Take time to remember. It was mid-October, one week before the brilliant Sunday Finals of the Argo Group Gold Cup and Bermuda was slammed by the second major storm in a week. Tropical Storm Fay — or was it Hurricane Fay by then — had hit Bermuda with a sneaky left jab only five days earlier.
Category 3 hurricane Gonzalo eyed Bermuda as the follow-up right cross of the one-two punch. Bermuda was down on one knee, but rose up to host one of the most exciting matches for the King Edward VII Gold Cup Trophy in history. The people of Bermuda made it all possible.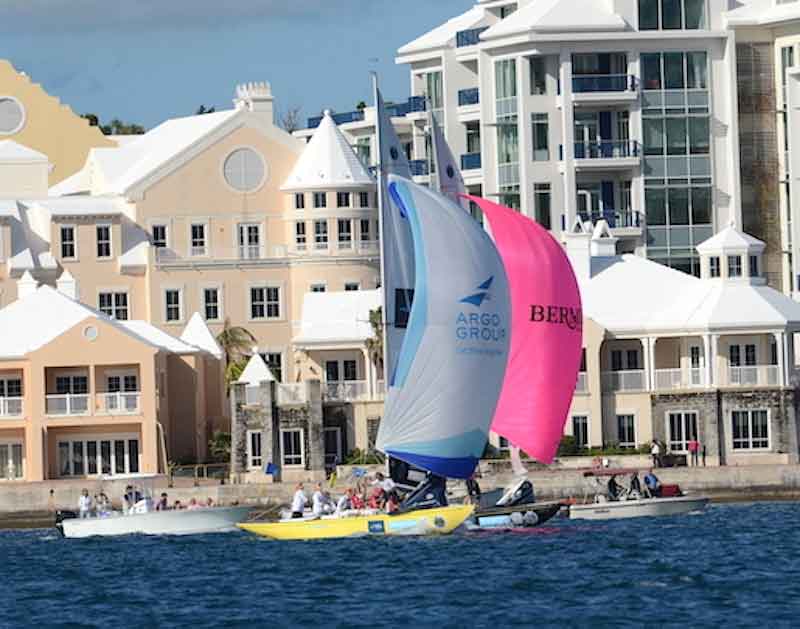 The one-hour and half-hour videos of the Alpari World Match Racing Tour Stage 6— The 2014 Argo Group Gold Cup— are now available to tell the story here.
As Gonzalo sped northward leaving thousands without electricity, leaving roads impassable, leaving the airport closed for the second time in a week. Bermudians immediately assessed the situation, put their country back in order and said "Welcome" to skippers and crew. Emergency workers, crews from Belco and people in their own neighborhoods and soldiers from the Regiment were up to the task in isolated corners of Bermuda following the government's carefully orchestrated recovery plan.
Premier Michael Dunkley said on Monday of Gold Cup Week, "On behalf of the people of Bermuda, I am delighted to welcome the organizers and competitors for this year's Argo Group Gold Cup."
"The fact that this excellent event is taking place within days of Tropical Storm Fay and Hurricane Gonzalo is testament to Bermuda's tremendous resilience and your commitment to racing in one of the world's great sailing venues."
"A lot of pieces quickly came together to keep this event on track, and I want to commend all participants, the title sponsor Argo Group and all the other sponsors for making it happen."
At the conclusion of the Prizegiving one week later, Brian Billings, Past Commodore of the Royal Bermuda Yacht Club and Chairman of the Argo Group Gold Cup said, "The organizers, volunteers and participants all owe a debt of gratitude to Bermudians from all walks of life. They were hit by a major catastrophe, but gallantly rose up to meet the challenge. The world now knows a little more about the character and courage of our people."
"Sailing and courage are in our blood. Now, Bermuda is in a two-way battle to host one of the world's premier yachting events, the 2017 America's Cup. This is potentially one of the biggest events in Bermuda's recent history. We think our quick recovery from the two storms shows the America's Cup Organizing Authority how all parts of our island nation… business, industry, trades people, the new Bermuda Tourism Authority and Government… can all work together for a common purpose."
"America's Cup organizer Sir Russell Coutts, himself a seven-time winner of the King Edward VII Gold Cup Trophy, was in Bermuda for the PGA Grand slam. He saw first hand how Bermuda handles a tempest. We all saw Bermuda shine through the Argo Group Gold Cup, presented by Bermuda and invite him to bring the America's Cup finals to Bermuda. We will shine for the America's Cup as well."
Following five days of intense competition that saw top international teams battle from 20 teams in two round-robin groups down to one winner, Johnie Berntsson was king of the 2014 Argo Group Gold Cup. Berntsson defeated Eric Monnin 3-1 in brilliant match racing conditions on Bermuda's Hamilton Harbour.
This is the second time the jovial swede has won the King Edward VII Gold Cup, repeating his triumph of 2008. "As far as winning the Gold Cup," Berntsson said, "this is the top event for us. This is a huge win for us. The Argo Group gold Cup is one of the best events for us and this one of the greatest wins we will ever have".
And he smiled, "We will be back."
The first eight finishers in the Argo Group Gold Cup shared the $100,000 prize purse:
Johnnie Berntsson [SWE] – $50,000
Eric Monnin [SUI] – $20,000
Taylor Canfield [ISV] – $10,000
Ian Williams [GBR] – $7,000
Bjorn Hansen [SWE] – $5,500
Pierre Morvan [FRA] – $4,000
Steffan Lindberg [FIN] – $2,500
Marek Stanczyk [POL] – $1,000
Read More About