Teresa Perozzi will go head to head with Native American boxer Kali 'KO' Reis when Johnny Lima Construction presents Friday Night Fights on November 21st at the Fairmont Southampton Princess, Poinciana Ballroom.
The pair will be competing for the vacant IBA World Middleweight Championship. Nikki Bascome will face Joe Marchand out of Canada in the super welterweight fight and Chioke Tucker will go up against Martello Jones of Canada in the heavyweight class. Steve Smoger will be the referee for all three fights.
General entry fee is $65 and for ringside seats entry fee is $100. Tickets are available at International Sports Shop, Beyond Fitness and www.ptix.bm. Doors open at 7pm with the first bout scheduled for 8pm.
Fight line-up:
1. Vacant IBA World Middleweight Championship of 10 x 2 minute Rounds between Teresa Perozzi, Warwick, Bermuda 9 (KO1) 4 (KO 0) – 3 Drawn and Kali Reis, Providence, Rhode Island, USA 6 (KO2) 3 (KO0) 1 drawn.
2. Super Welterweight: Earl "Nikki" Bascome, Warwick, Bermuda 1 (0 KO) – 0 – 0 vs Joe Marchand, St Mary's, Ontario, Canada, making his professional debut. 4 x 2 minute rounds.
3. Heavyweight: Chioke Tucker, Warwick, Bermuda vs Martello Jones, Brampton, Ontario, Canada. Both making their professional debut. 4 x 2 minute rounds.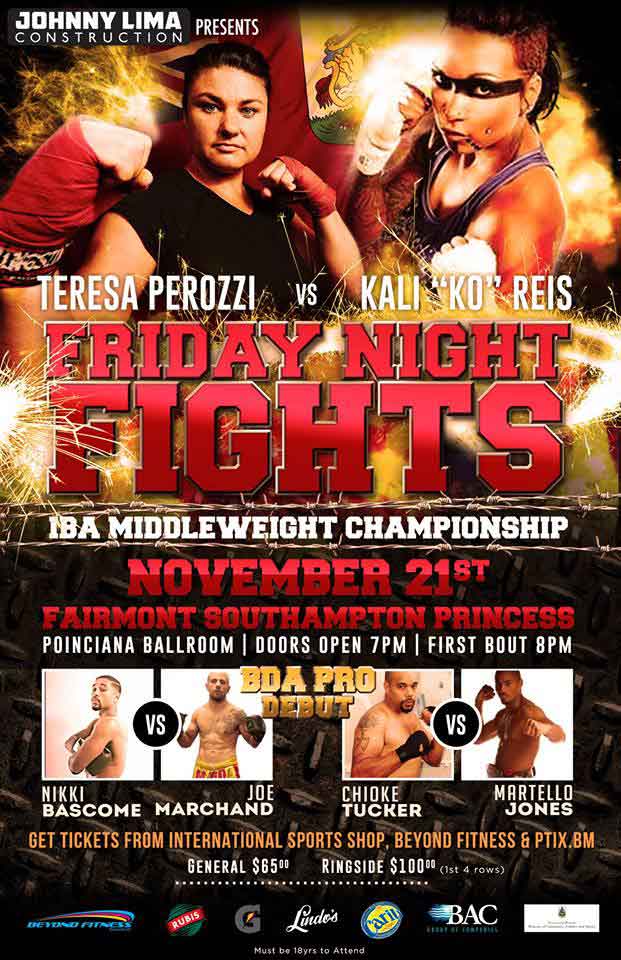 Read More About