Premier Michael Dunkley visited BELCO headquarters today [Nov 3] to personally thank the workers for the restoration effort after the double strike from Tropical Storm Fay, and Hurricane Gonzalo, which knocked out 27,000 and 31,000 customers respectively.
Premier Dunkley said, "It's been a tough three weeks, and I wanted to take the opportunity this morning to come around to BELCO headquarters and to personally say thank you to all the workers for the tremendous job you have done over the past couple of weeks."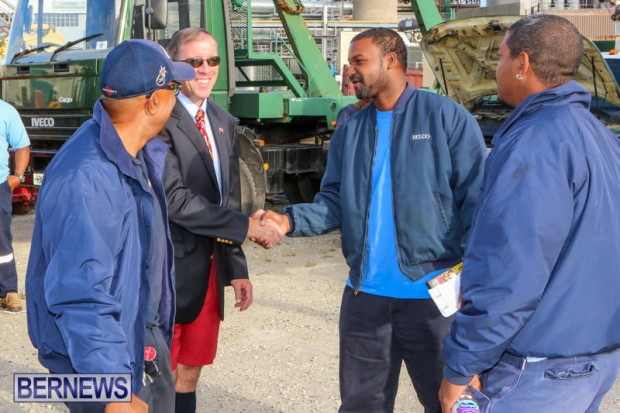 "This past weekend was probably the first weekend in four weekends that the workers at BELCO have had an opportunity to relax and enjoy some of the things in life with their family and friends. And on the backdrop of Tropical Storm Fay and Hurricane Gonzalo, I wanted to come around and say thank you to the workers at BELCO," the Premier continued.
"I have been to around the Parks Department, I go to Works Department on Wednesday, I have spoken on the radio, on TV, in press releases; but to me as Premier of Bermuda it's important that I come around and look people in the eye and thank them for the tremendous work that they've done when we've been hit by not one, but by two storms.
"And BELCO certainly has done a tremendous job over the past three weeks in restoring power back to Bermuda. You can't please everyone, there were 27,000 people without power after Fay and 31,000 people after Gonzalo and BELCO settled in.
"As Chairman of the EMO, with the Commissioner of Police, it was tremendously gratifying for me to sit there and have consummate professionals around the table to ensure not only did we prepare Bermuda for the challenge we face, but we were ready after the hurricane went through to deal with the challenges.
"It has been a pleasure working with Denton and Roger, and the whole team here at BELCO. You've done a fantastic job and you made me realize again day in and day out why I am proud to be Bermudian….when we have a challenge we rally and we get the job done. So thank you to the tremendous team you have here at BELCO," added the Premier.
BELCO COO Denton Williams said, "I'd like to formally thank the Premier and the country for recognizing the efforts of the BELCO team.
"Obviously it is not easy work, it was not expected to have to deal with two storms rather than just one, but I can say that I am very proud of the work that our team has put in and the consummate effort that they put forth to deal with both Tropical Storm Fay and also Hurricane Gonzalo."
Click to enlarge photos:

Read More About