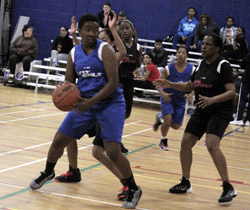 The Bermuda Basketball Association's Men's and Women's League Seasons resumed inside the CedarBridge Academy Gymnasium with 275 points scored in four games.
In the Lady's Opener, the Lady Hawks recorded a 26 – 9 win over the Court Queens, with Tashae Thompson scoring 8 points to lead the Lady Hawks to victory, while Nicole Crumpler scored 5 points for the Court Queens.
The first Men's Game of the night saw the Flyboys' come out winners over the Crossfire Ballers 68 – 59. The Flyboys' were led by Rashun Tankard with 18 points, while Dean Jones scored 31 points for the Crossfire Ballers.
The Fly Girls moved to 7-0 on the season with a 23 – 8 win over the Pink Panthers, the top scorer for the Fly Girls was Erica Woods with 9 points, with Shanay Scott scoring 4 points for the Pink Panthers.
The final game of the night saw the Thunder Cats remain unbeaten at 7-0 with a 53 – 39 win over the now 2-5 Sky Force. Kallen Beckham scored 19 points for the Thunder Cats, while the Sky Force got 16 points from Calvert Lee.
Read More About
Category: All