Art Walk is a self-guided artist experience that will be held in St. George's on Friday, February 27th from 6pm-10pm. The event features local artists, like Taylor Rankin, Dem Biez, Rock Fire, Joy T. Barnum and more; interactive street street art, unique retailers, lively entertainment and area restaurants all on the same night.
A spokesperson said, "The mission of the event is to celebrate the vibration and unique local art, culture and community.
"The Art Walk promotes art in all forms including, but not limited to: pottery making, cedar carvings, paintings, weaving, temporary installations, local film, singing, dancing, instrumental and spoken word.
"Artists will showcase their talents with performances, interactive displays, store front galleries, and perhaps a flash mob or two, within the idyllic setting of the St. George's Town Square.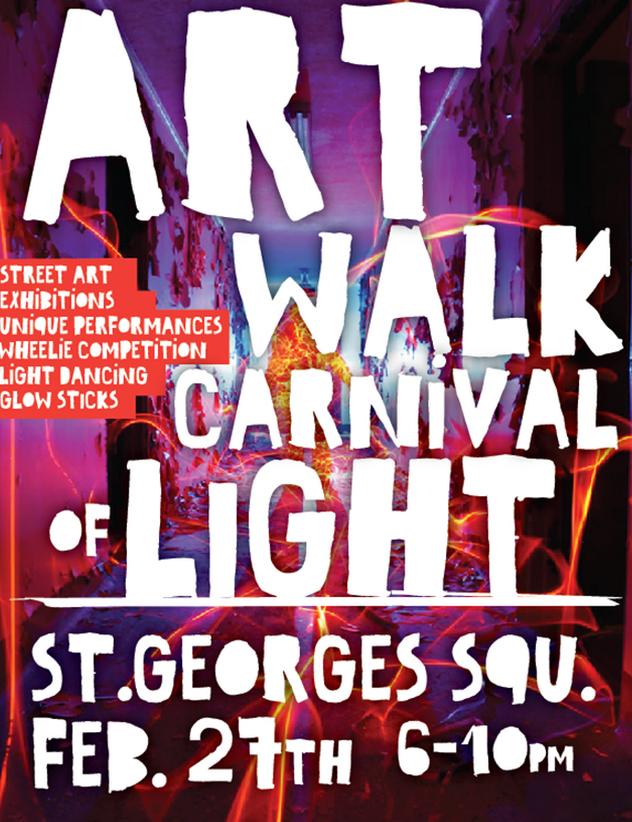 "On February 27th, 2015, from 6pm-10pm a new and exciting ArtWalk called Carnival of Light will fun filled event with more art, lights and surprises. Participating artists will be creative in their use of light in creating and highlighting their work, from glow in the dark paint, flashing lights, glow sticks, any thing that produces light.
"Art Walk will also be playing off the bright colours of Carnival masquerade celebrations from around the world. It's also Carnival Weekend in Trinidad, which is known for their bright colours of the masquerade, thus why we are calling this Art Walk: Carnival of Light.
"This event is not one to be missed. Open to all, visitors and residents, babies, teens and the discerning art critic." For more information, visit the website artwalkbda.com or follow online, on Facebook and Instagram, @artwalkbda
Read More About
Category: All, Entertainment