The Bermuda Arts Council Awards 2020 will be held this evening [Dec 20] serving to recognize three of Bermuda's talented artists, including Peter Nash, Sharon Muhammad and Wendell "Shine" Hayward.
A Government spokesperson said, "Three of Bermuda's pioneering artists will be recognized for their body of work when they will be presented with the Bermuda Arts Council Awards 2020 this weekend.
"The Awards will be broadcast on CITV [One ch. 2 / WOW ch. 102] this evening, Sunday, December 20 at 6.00 p.m," the Government noted and they will also be shown via the YouTube stream embedded below.
"This year, singer Peter Nash will be bestowed with the Bermuda Arts Council [BAC] Lifetime Achievement Award, while artist Sharon Muhammad [formerly Wilson] and musician Wendell "Shine" Hayward will each be presented with the BAC's Founders Award.
"As a note, the Lifetime Achievement Awards are presented to persons respected in their art form and who have a significant body of original work representative of the Bermudian spirit. The Founders Awards are presented to pioneers in their art form."
In recognizing the 2020 recipients, the Minister of Youth, Culture and Sports Dr Ernest Peets said, "This year, we are delighted to honour the achievements of artist Sharon Muhammad, musician Shine Hayward and singer Peter Nash.
"Through their artistic talents these individuals have enlightened, uplifted and entertained us, by providing us with joy and inspiration. It's my absolute honour to celebrate these three deserving Bermudians who have inspired so many of us with their artistic creativity and passion.
"Each of our distinguished recipients have in one way or another shaped our community with their creativity, commitment and passion, and we are grateful for their selfless contributions to Bermuda.
"The Ministry of Youth, Culture and Sports is truly delighted to support the work of the Arts Council and their aim of shining a spotlight on deserving Bermudians who have given us so many years of enjoyment.
"The Bermuda Arts Council Awards is indeed a special and important occasion on Bermuda's cultural and artistic calendar. It's an opportunity to celebrate and pay homage to the 'artistic giants' of our country."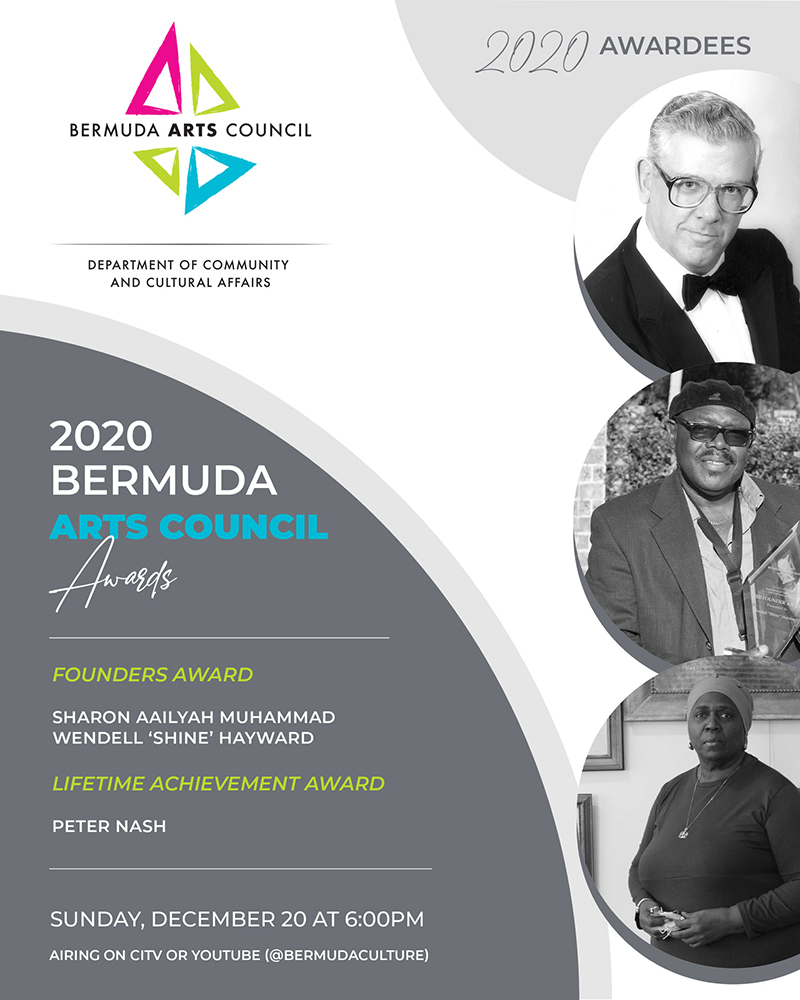 Read More About
Category: All, Entertainment, News, Videos