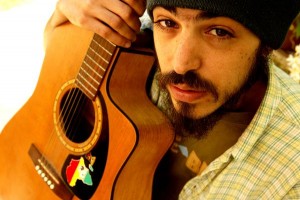 Bermudian reggae artist Magma has officially launched his first album, titled 'The Mission,' at the Countryside Club in Jamaica, the nation where he currently resides.
A report in the Jamaica Observer said, "It was Nyahbinghi with a Bermudian feel last Thursday at the Countryside Club in St Andrew, where singjay Magma launched The Mission, his first album.
"The gangly Rastafarian, who moved to Kingston 11 years ago from Bermuda, delivered an energetic set in breezy conditions, with a hint of rain.
"Most of the songs Magma did were from the album, such as the rootsy Emanuel, the jazzy Love Life and reflective Memory Lane. There was also a rendition of Paul Simon's Mother and Child Reunion, a song he recently covered.
"His father William Mayo, an Englishman who has lived in Bermuda for 45 years, is pleased with his son's development as an artiste."
"It's great, he's sort of blazed a trail for himself which is great to see. We feel very pleased, my wife and I," said the elder Mayo.
Adam Mayo, the artist formerly known as Mango Seed, adopted the stage name Magma when he took up residence in Jamaica in 2008 and was signed by the reggae label Down Sound.
He has been introduced by Bob Marley's son, Julian, at a concert organised by one of Prince Charles's charities, performing for thousands in the heart of Leicester Square, London. And he is now putting the finishing touches on a planned new album.
Recently Magma contributed a track to the "Ride the Wave" charity CD - also featuring songs by such Bermudian artists as Troy Anthony, Collie Buddz and Heather Nova – which raised $40,000 for the Coalition for the Protection of Children's schools breakfast programme.
Now Magma, whose self-produced debut album "Conscious Fire" enjoyed strong sales and received radio play for"Too Much Concrete", "Babylon" and the title track when it was released, is on the cusp of an international career, according to his management.
"He is definitely finding his voice and we will be doing more recordings with him and hopefully put out an album…", said his producer Mr. Boogdnovich. "We're already getting some calls for him in Europe, so it looks kinda promising."
Read More About
Category: All, Entertainment, Music