The Bermuda Mental Health Foundation announced its island wide school tour as a part of its Rethink Mental Health Campaign.
A spokesperson said, "This campaign is a year-long education and awareness campaign that is geared towards combating the stigma surrounding mental illness and educating the community about mental health, community resources and so much more.
"CellOne Bermuda has come on board as a lead sponsor to assist in educating students utilizing a fun filled presentation that will feature great prizes and give-a-ways.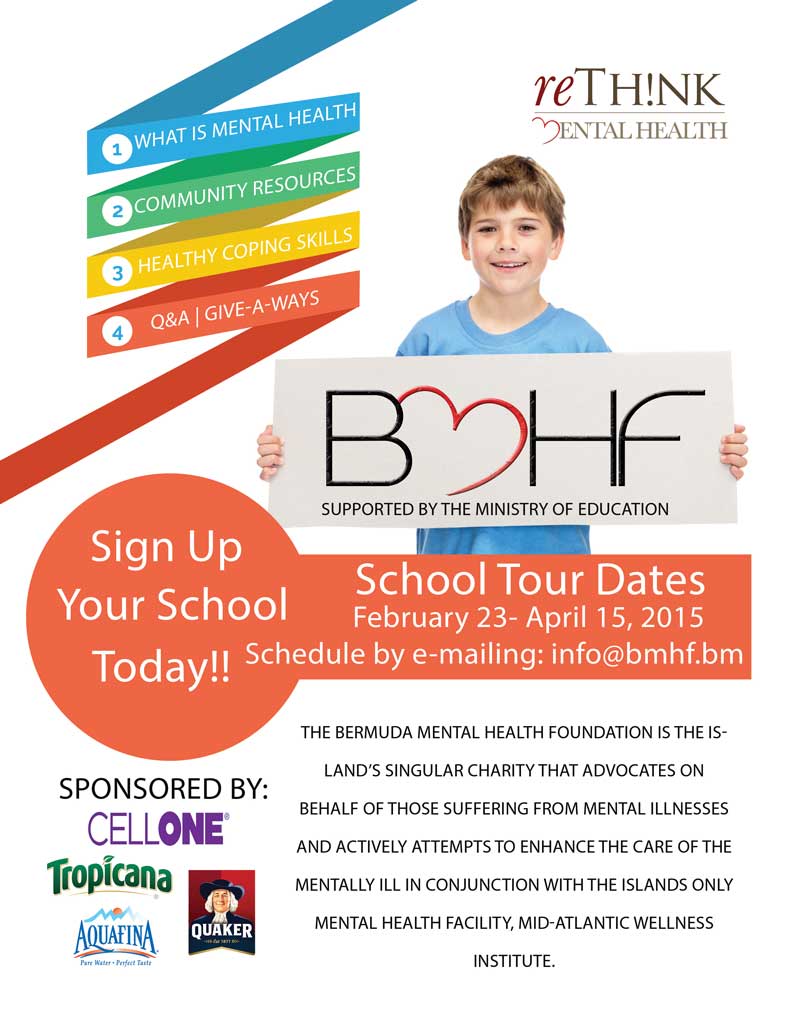 "Joining Cell One Bermuda is Quaker Oaks, Aquafina and Tropicana who will graciously provide give-a-ways to all of the students. It is the goal of these initiatives to support the curriculum regarding mental health and to share with students some of the ways in which they may maintain healthy coping skills, while also informing students about community resources that are available to assist in combating mental health stigma in Bermuda."
"Mental health is an important topic affecting the daily lives of many, whether physical signs are apparent to the general public or not" says Joel Ferrier, CellOne Marketing Director.
"CellOne is pleased to be an integral part of this campaign by the BMHF, helping their educational initiatives for the public, dispelling myths and instilling a positive approach when dealing with such an important cause."
The Foundation has several important events this year that aim to make the public more aware of mental illness and health in Bermuda. It is working in partnership with the Mid-Atlantic Wellness Institute, Human Rights Commission, Mental Health Court Pilot Programme and several community members to advocate on behalf of the mentally ill in our community.
All public and private schools are invited to request to be a part of the tour by e-mailing info@bmhf.com or calling 400-5634. Presentations are arranged to accommodate all grade levels and are conducted by mental health industry professionals.
For all of the Foundation's latest projects, initiatives, volunteer opportunities or to make a donation, visit bmfh.bm or e-mail info@bmhf.bm.

Read More About
Category: All