Digicel Bermuda has extended its sponsorship of the Middle School Rugby League, providing additional support in the form of new rugby training jackets for 140 students participating in the Digicel Middle School Rugby League.
Earlier this year, Digicel also outfitted Sandys Middle School with a new team uniform featuring their signature maroon, grey and white colours.
"Digicel are delighted to be extending the Middle School League sponsorship and are also pleased to be providing new jackets for all the league participants and a brand new kit to the Sandys Team," said Digicel's Sales Director, Shane McDonnell.
"We are very proud as Rugby has developed very quickly over the last few years in the Middle Schools under the mentoring of Patrick Calow and the Beyond Rugby Team. More importantly we are very proud of the development of all the children taking part in the program."
Sandys Middle School Rugby Team featuring gear sponsored by Digicel. Pictured are: Back Row L-R – Shishun Burgess, Jordan Burgess, Jalun Hassell, Jeze Butterfield, Dalin Richardson, Shaheim Wainwright; Front Row L-R -Yizaryah Williams, Shawn Simons, Zahdai Simons, Ethan Fubler, Seth Gibbons, Daishun Brangman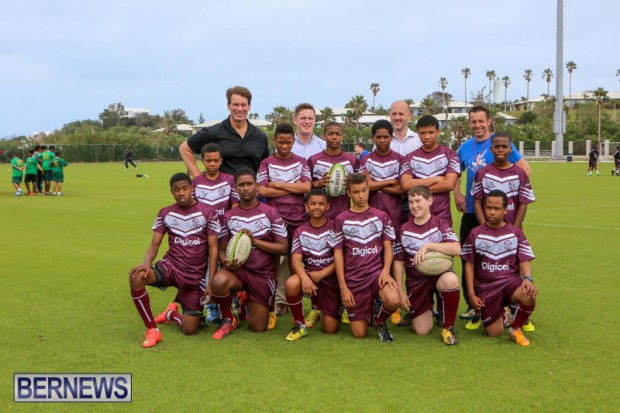 The Bermuda Middle School Rugby League has been operating successfully for three years/seasons. Competitive rugby play is encouraged among six middle schools: Dellwood, T.N. Tatem, Whitney Institute, Sandys, Saltus and Warwick Academy.
Matches occur each Thursday, in the west end and centrally at the participating school fields. Transport and equipment is also covered in the Digicel league sponsorship.
Sandys Middle School has a long tradition with rugby as their school coach and teacher, Chris Naylor has been facilitating a rugby program at the school for 15 years.
Mr. Naylor said, "Thanks to Digicel's generous sponsorship the Sandys team looks sharp and the team has been training hard to compete. The league has been a great opportunity for all participating teams."
According to Patrick Calow, Youth Development Officer for the Bermuda Rugby Football Union [BRFU], the Middle School Rugby League has received great community support from the students, parents and parties who are curious about Rugby.
League results include an increased number of male and female students and former middle school players competing at the high school level and playing in the men's rugby league. Long-term goals include steady participation and competing at a Caribbean level.
For more information related to the Digicel Middle School Rugby League, please contact Patrick Calow, BRFU Youth Development Officer on 595-9309 or via email pcalow@brfu.bm.
Read More About