18,783 invasive plants were removed from Nonsuch Island during 2014, Minister of Health, Seniors & Environment Jeanne Atherden said recently.
While delivering the brief for her Ministry, Minister Atherden said "With the assistance of volunteers from the Ascendant Group of Companies, work to eradicate Casuarina and Brazil Pepper trees and other invasive introduced plant species on Nonsuch and the other Castle Harbour Islands has continued, with over 18,783 invasive plants being removed from Nonsuch Island alone during 2014.
An aerial view of Nonsuch Island courtesy of Bermuda Aerial Media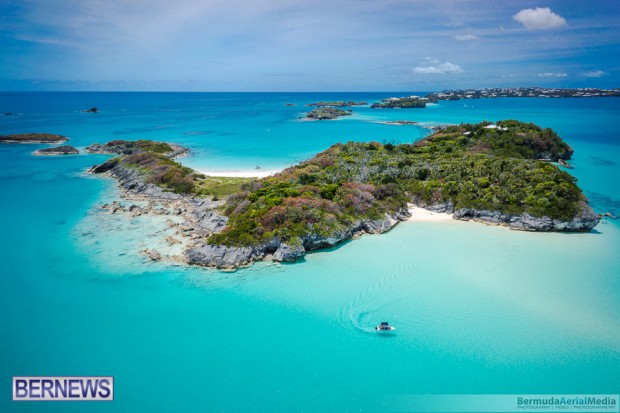 Minister Atherden added, "Volunteers from Ascendant have also helped Department staff in removing over a thousand Casuarina and Pepper trees on Castle Island and have completely cleared them from the historic fortifications of the King's Castle Fort and the Landward Fort on the Island, where they had been damaging the masonry of the forts with their rampant root growth. In addition, about half of the Devonshire Redoubt Fort was also cleared of damaging Casuarina trees."
"The Nonsuch Island Nature Reserve has continued to be extremely popular for School Education and Natural History Tours. 51 groups, totaling just under 1000 visitors, 776 of which were students, were given guided tours of the island during 2014, despite a number of tours being cancelled due to stormy weather conditions.
"Groups included school tours, the Bermuda Sloop Foundation's 'Spirit of Bermuda' sail training ship education program, BZS, Senior Learning Center, Bermuda Audubon Society and BIOS."
Read More About
Category: All, Environment, News