The first two days of the 2015 Carifta Swimming Championships in Barbados has Bermuda in 7th place out of 20 countries competing, with the island's swimmers having made an impressive showing, capturing fifteen medals during the first two days of action.
"Day 1 saw us have 7 individual and 2 relay swims in the finals," Coach Ben Smith said. "First up was Vanessa Esposito in the 800 where she lowered her personal best swimming 9:29.95 which set a 15-16 age group record and placed her 5th.
"Next was Tyler Mazurek in his first Carifta where he was in the 1500 meter free. Tyler swam a very strong 16:33.75 which broke the 17-18 age group record and the Bermuda National record and placed him in 2nd giving him our first medal of the evening and getting a Pan Am B time.
"After the distance events we saw our swimmers in the 50 backstroke where we had Emma Harvey and Moore battle to the finish. At the wall Emma touched out Maddy for the gold with a time of 31.30 and Maddy finished with the silver in 31.62. Shannon Hassell finished out the backstrokes with a 33.28 taking 7th place in the 15-17 age group.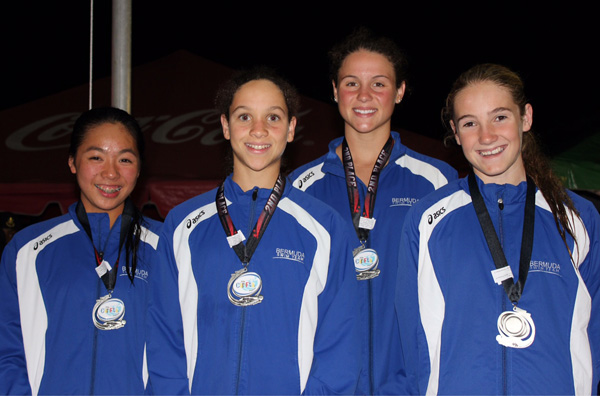 "Emma was back at it in the 100 fly where she finished 2nd with a time of 1:05.29 which set a new age group and National record. Vanessa was next in the 100 fly and had a strong swim going 1:07.65 to take the bronze.
"Capping off the first night we had the 13-14 girls relay of Megan Lau, Ashley Irby, Emma Harvey and Maddy Moore swim a blistering 4:08.27 setting a new age group record and taking the silver medal."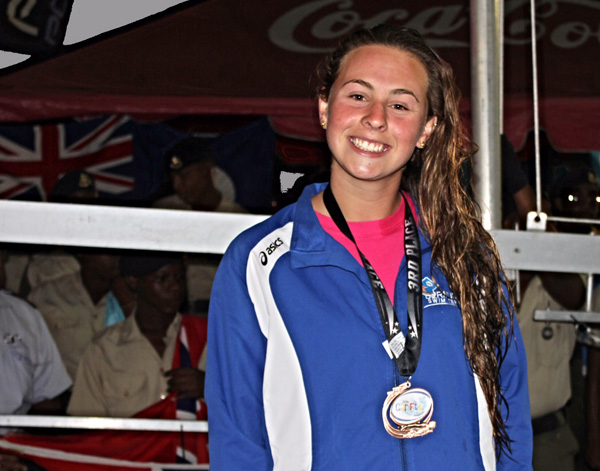 "Day 2 we had 15 individual finals and 2 relays," Coach Smith added. "200 freestyle started the evening with Maddy Moore and Ashley Irby in the 13-14 age group. Maddy took it out strong and lead the race until the last 10 meters where she was caught and finished with the bronze. She did take the age group record with a 2:12.15. Ashley swam 2:18.15 for 8th place.
"In the 15-17 age group Vanessa Esposito swam 2:11.66 to take the age group record and place 5th. Jesse Washington and Tyler Mazurek had a Bermuda battle to the finish where Jesse placed 5th in 1:58.02 with a new age group record and Pan Am B time. Tyler finished 6th with 1:58.12 also under Pan Am B standard and a new age group record for 17-18."
Bermuda swimmers are awarded their medals at the 2015 Carifta Games
"13-14 girls 50 fly had Maddy and Emma at it again with another 1-2 finish with Maddy taking gold this time and Emma taking silver. Maddy lowered her age group record to 28.74 with Emma 1 tenth behind in 28.84.
"Vanessa finished the girls flys with 29.93 to grab her second bronze of the meet. Jesse finished in 8th with a time of 26.88. The 100 backstroke was up next with Emma and in the final. Once again Maddy had a big lead only to be caught at the finish where she place second with 1:09.27 followed by Emma taking bronze with 1:09.86. Shannon Hassell battled her way to a bronze with a 1:09.32."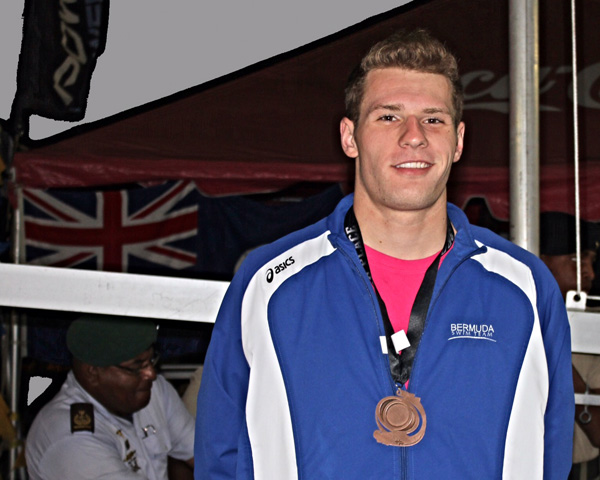 "Emma Harvey was next where she held the lead until the breaststroke leg. After falling into 4th place she battled back with an amazing last 50 to take the bronze with a time of 5:24.64 which is a new age group record. Last individual event for the night was Tyler Mazrek who was able to capture the bronze medal with a 4:48.11 which took the 17-18 age group and National record.
"The 13-14 girls swam their hearts out but fell short by half a second to place 4th. We are hoping to continue the medal haul with the 100 free, 200 fly, 200 and 50 breast individual tomorrow along with the 4 by 200 free relay."
Read More About