As a part of the 50th anniversary celebrations of the Bermuda Regiment this year, the National Museum of Bermuda has placed an historic cannon at the entrance to Warwick Camp, the home of the Regiment.
The cannon and carriage will be officially dedicated in a ceremony in October 2015 when the contributing donors, including the Bruce Sharpe Family, will be formally recognized.
A spokesperson said, "In order to position the gun, a concrete platform was necessary, and that was made thanks to the generosity of Island Construction Services. A cast iron replica carriage of an 1840s design was also needed, and that was provided by a donation from the Oil Group of Companies."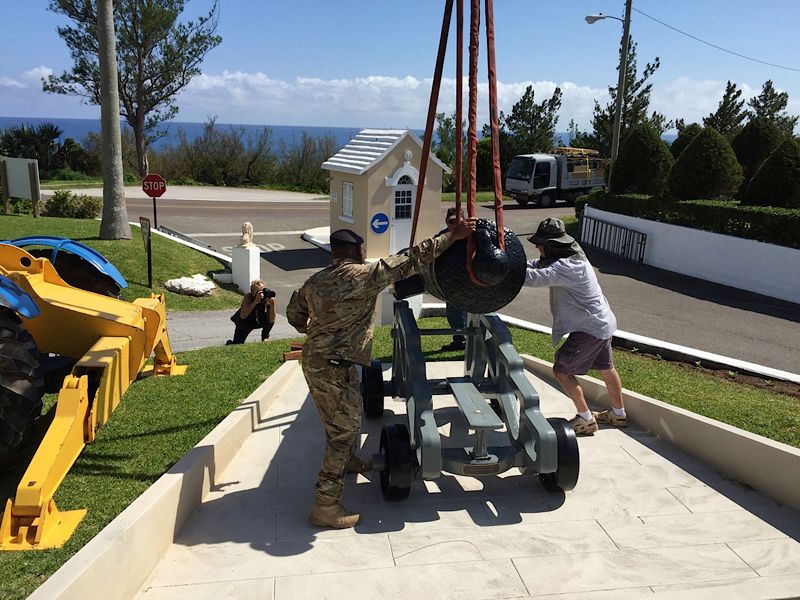 "The cannon itself is from the Napoleonic period and is dated 1807. It was made by the Carron munitions company, famous for its unique gun called a 'carronade', two of which adore the front of Government House. The cannon is almost ten foot long, with a bore of six inches, making it a 32-pounder.
"It was made during the reign of George III and carries a "King's Broad Arrow," which was a symbol to be placed on anything bought for the British military.
"The serial number of the cannon is on the face of the left trunnion, being number 71362. On the cascabel loop are the initials CV C B, which indicates that the touchhole was fitted with a copper vent and that the work was done at Bermuda; there were apparently only 5 stations in the British Empire where such work could be done."
"For many years, the cannon was used upright in a wharf as a bollard for mooring boats, so that the salt water has damaged the bottom half of the gun. Nonetheless, the gun is a good example of the 32-pounder, which was one of the largest guns in the early nineteenth century.
"Bermuda is fortunate to have a collection of over 150 historic guns, ranging in age from the late 1500s into the beginning of the twentieth century, as represented by the big 'rifles' at St. David's Battery, once manned by the Bermuda Militia Artillery, one of the found corps of the Regiment.
"The Bermuda Regiment is part of the considerable military heritage of Bermuda and represents the legacy of the military guardianship of the island that began with the fortification of the Island upon its first human settlement in the summer of 1612."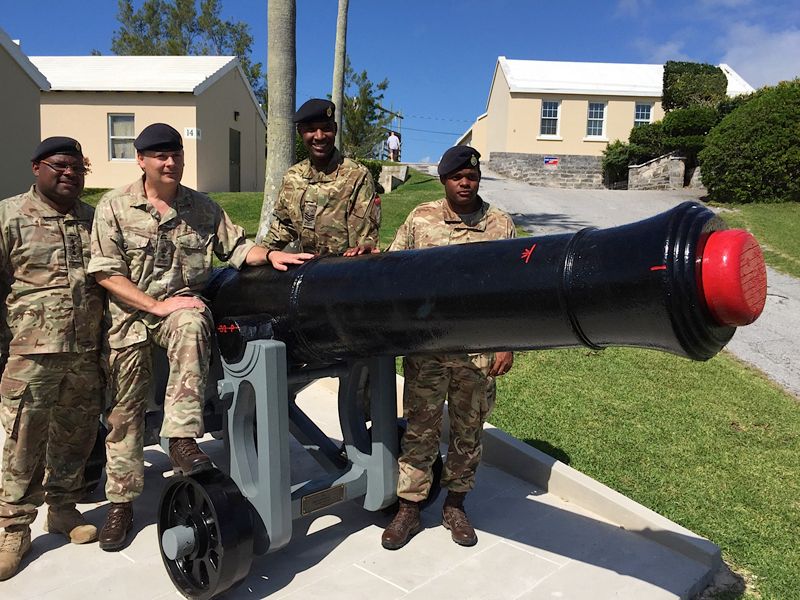 "That heritage has now been given a further visible reminder with the emplacement of the Carron cannon at the front gate of Warwick Camp."
Commanding Officer Lt. Col. Michael Foster-Brown said, "We are very proud of the heritage of the Bermuda Regiment since its inception 50 years ago in 1965, and of its forebears the Bermuda Militia Artillery and the Bermuda Rifles, a legacy on display at the Military Museum at Commissioner's House, National Museum.
"The placement of the Cannon at the entrance to Warwick Camp underscores that heritage and the long and close association of the Regiment with the National Museum."
Read More About