[Updated] Chris and Ashley Estwanik won today's [May 25] Half Marathon, as the husband and wife team dominated one of the main events of the Bermuda Day holiday.
Chris and Ashley Estwanik hug following their top Half Marathon finishes: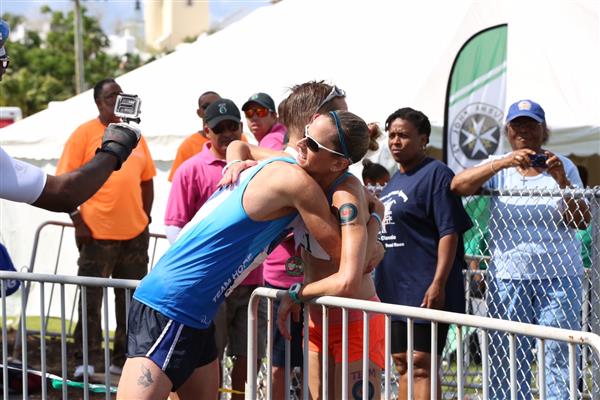 Chris Estwanik clocked 1:07:46 to lead the men, a full six minutes ahead of second place finisher Lamont Marshall, who clocked 1:13:51. Stephen Allen rounded out the top three men with a time of 1:14:38.
Tyler Smith, who is just 16 years old, made a great showing by finishing fourth with a time of 1:16:35.
Chris Estwanik crosses the finish line: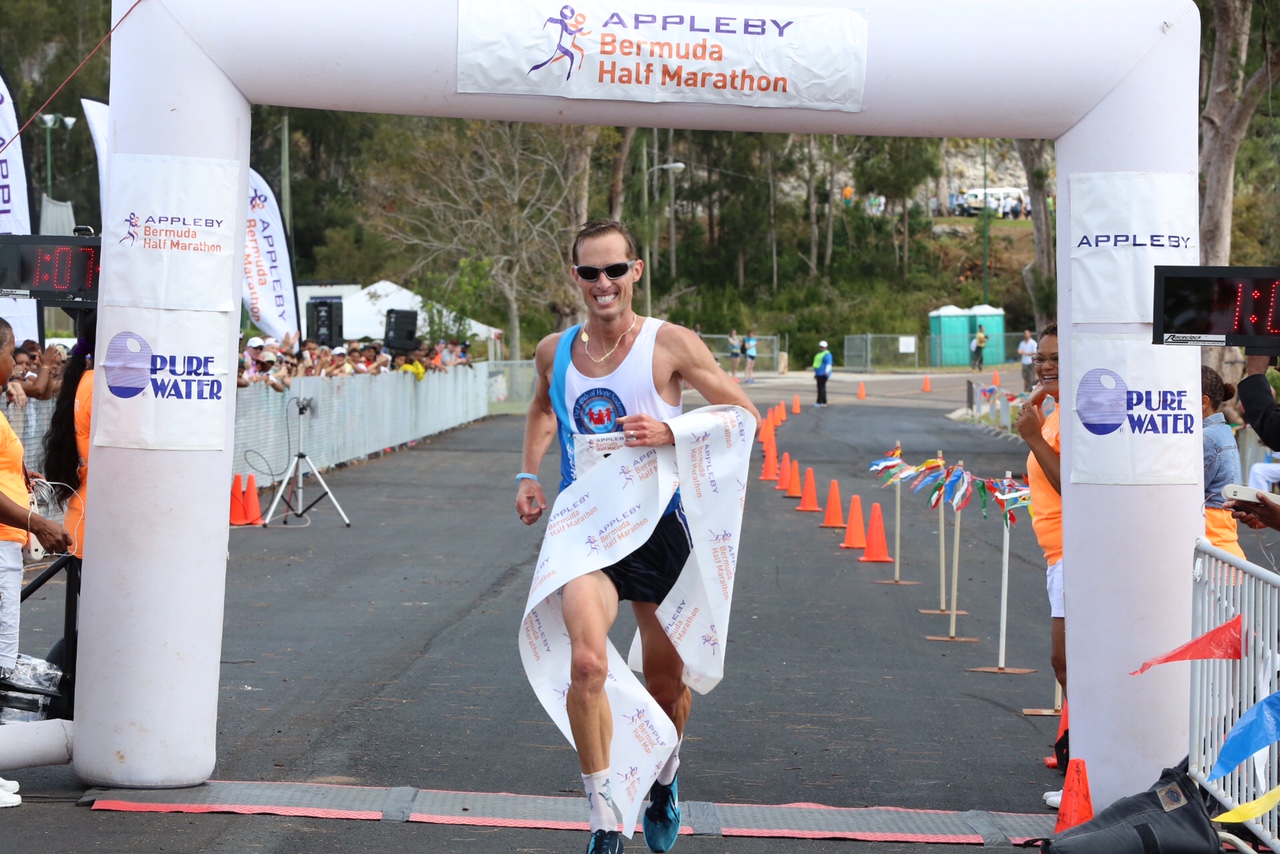 Rounding out the mens' top ten were Christopher Harris at 1:17:05, Jay Donawa at 1:17:57, Spencer Butterfield at 1:19:10, Seamus Fearon at 1:19:24, James O'Shea at 1:19:43, and Ryan Wilson at 1:20:07.
Ashley Estwanik crosses the finish line: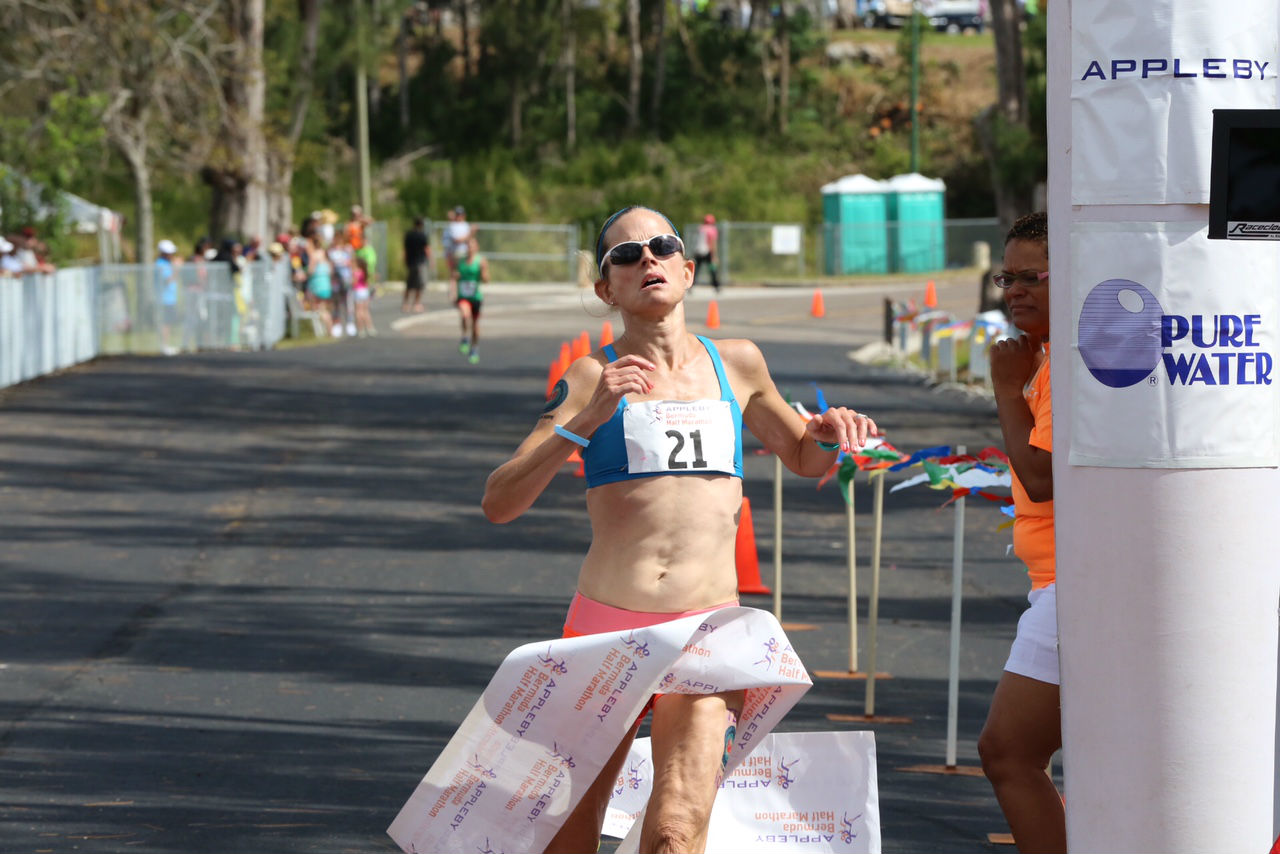 In the women's race, it was Ashley Estwanik who claimed victory, clocking a time of 1:22:43, with Ashley Berry finishing close behind to claim second place with a time of 1:23:53. Rose-Anna Hoey claimed the third position, finishing the race with a time of 1:30:44.
Start of the 2015 Bermuda Day Half Marathon Derby:
We will update with the full results as able, and for live coverage of all of the day's events, click here, and for all of our Bermuda Day coverage, click here.
Update 11.06am: An audio interview with winner Ashley Estwanik has been added below.
Update 11.33am: Following her victory, Ashley Estwanik told Bernews: "I definitely think it's a bit of a harder course, but I really enjoyed it. The crowds were unbelievable; I think the west enders have some work to do for next year.
"It just really was a great atmosphere today and it's a great day for running. Of course it hurts, but the humidity's down, there's a little bit of cloud cover, the temperature's down a little bit, the wind at your back, so it's a great day for running.
When asked about her strategy for the race, Mrs. Estwanik said, "I always joke around about 'start out hard, pick it up, and finish strong,' but I kind of expected to feel pretty smooth for the first half because that's the easy part in terms of the course.
"But I actually was already hurting by Flatts, so I was like, 'oh God, the hard work hasn't even started.'
Mrs Estwanik added, "I turned around and saw Ashley Berry was not very far behind me, so I really had to turn it on and pick it up, so I pretty much felt like I was sprinting for the last two miles, which really, really hurt.
"I didn't get to enjoy the crowds as much I normally do because I was working so hard, but that's the way it goes."
Update 1.22pm: Video of the top finishers crossing the finish line
Read More About