While the Bank of Butterfield's staff are shaken up by yesterday's armed robbery, their spirits are strong, and the east end bank branch is back in business today.
Just past noon yesterday [June 9] there was an armed robbery at the Butterfield Bank in St. George's, with a man entering the bank brandishing what appeared to be a gun, demanded money and then escaped with an undisclosed amount of cash. A few hours after the robbery, the police arrested a 39-year-old St George's man in connection with the incident.
Premier Dunkley & MP Kenneth Bascome with bank staff today: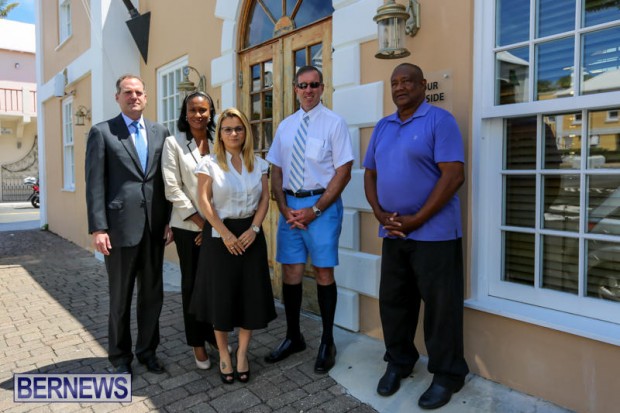 Speaking today, Premier Dunkley said, "I came down this morning to the wonderful town of St. George's after the most unfortunate incident yesterday as I thought it was important to show support specifically to those staff members of the bank who were very disturbed by the incident yesterday and of course my colleague, MP Bascome is here with me today, and Mike Collins from Butterfield.
"We have the opportunity going to talk to some staff, no one expects those type of things ever to happen in their life, and as Premier and as a proud Bermudian, I think I can feel some of the concern that the staff members will have, and I thought it would be critical to come down and see how they are doing and help them get through the aftermath of the situation.
"So we've been hosted by Mr. Collins here this morning, we had a good visit in the bank and we're back to business but they still have some wounds that have to heal, and we're trying to help along that road.
"It's always good to be in St. Georges, under this unfortunate circumstances there is a bit of a shadow but we'll recover from that, the spirit of Bermuda is strong, the spirit of the employees of the bank is strong."
Premier Dunkley and MP Bascome visits Butterfield Bank Staff
Mr Collins said, "I just like to thank Premier Dunkley and Mr. Bascome for coming and it means a lot to the staff, who are obviously very shaken up. Spent all afternoon with them yesterday and it come in waves, it's very emotional, really stressful experience and it doesn't end today…a week down the road there will still feel it.
"Definitely a life changing experience but I can tell you that they all acted incredibly, they did exactly what they supposed to do. Incredible bravery and I think we should all be very proud of their behaviour, and I just like to thank them, and thank both of you for coming by definitely means a lot."
St George's MP Kenneth Bascome thanked the Premier for coming to"our illustrious town" and praised the bank's employees, saying: "Once again I would just say to the staff thank you for your quick response and your professionalism in dealing with this situation."
The Premier added, "And one more thing I'll say to the people of Bermuda is although the police have a suspect in custody, thecase still goes on. Anybody who has information, continue reach out to the police and give them any information, so we can close this one off as soon as possible because that helps out bring some better feelings to the people involved. Thank you Bermuda for your concern,"
Anyone with any information about the robbery can contact the Southside Police Station on telephone number 293-2222 or the independent and confidential Crime Stoppers hotline 800-8477.
Update 2.31pm: Shadow Public Safety Minister Walter Roban said, "The Bermuda Police Service is to be commended for their swift capture of the alleged perpetrator of the crime at Butterfield Bank in St. George's.
"As economic conditions continue to worsen for most Bermudians, we must remain vigilant against a rise in crimes and avoid the individual temptation to succumb to the lure of the fast cash.
"The customers and workers of Butterfield Bank are dealing with must have been a horrific incident. Our thoughts and prayers are with them."
Update 8.36pm: The 39 year old man arrested in connection with this has been released on police bail.
Read More About