Thirty couples –who have been married for 50+ years — were honoured at a high tea on Sunday for the longevity of their marriages.
Bermuda CableVision partnered with Heart to Heart Marriage Mentoring Ministries [Heart to Heart] and recognised the couples on Sunday at the Hamilton Princess & Beach Club.
Bermuda CableVision advertised for members of the public to nominate couples who had been married for 50 plus years. There were 70 couples nominated and after rounds of interviews, 30 couples who met the criteria were selected to be recognised.
The event, "Salute Marriage: 50 to 59 Years", was organised by Mildred and Allan Hunt of Heart to Heart. Salute, an acronym, stands for Stop And Look Up To Enduring, Exciting, Energetic, Eventful, Encouraging, Effective, Enlightening and Enriching marriage.
The event acknowledged couples who have been married between 50 and 59 years.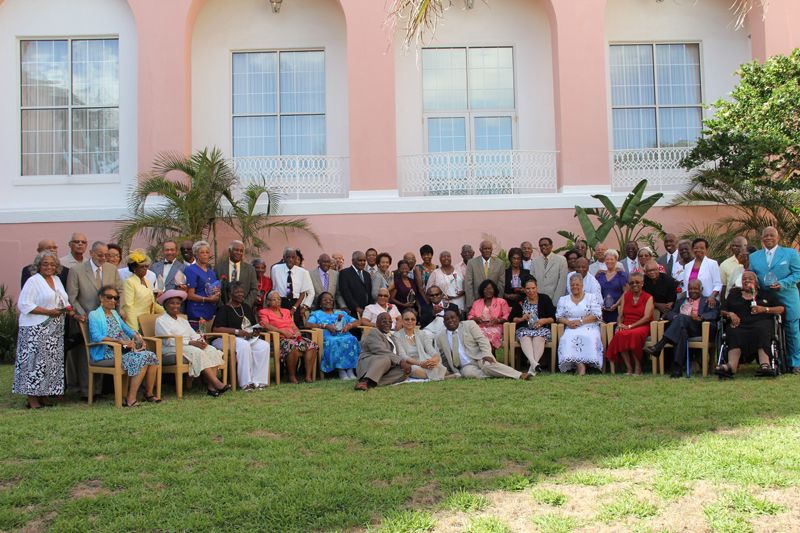 The celebration featured a variety of entertainment including the reenactment of a bridal procession at a wedding, various singers including Toni Robinson, Elca Maranzana and Mr. Hunt, comedy by Bootsie and salsa dancing by Ricky & Greashena Spence.
There was also a slideshow featuring photos of the couples over the years. Each couple was honoured and presented with an award courtesy of Bermuda CableVision. Lady B and Dwayne Caines served as Masters of Ceremonies.
Mrs Hunt says: "We were so happy to honour the 30 couples who were nominated by members of the public. The objective was to celebrate marriage as we believe marriage is the bedrock of all successful societies. On behalf of my husband and I, I would like to again congratulate the couples on their long, successful marriages."
Terry Roberson, CEO, Bermuda CableVision, says: "We were delighted to partner with Heart to Heart to honour those couples in our community who have been married for decades. We believe that strong families make strong communities and salute these couples for developing kindness, love and respect for each other over so many years."
Read More About