Bermuda is featured in the current issue of Destination Weddings & Honeymoons magazine, with the publication calling us a territory "marooned in the Atlantic Ocean" that "retains a tropical-island vibe."
The Bermuda Tourism Authority worked with the editorial staff of the magazine in February of 2015 and that work contributed to the creation of the content, and the BTA noted that between April and December 2015, the Bermuda Visitors' Arrival Cards recorded 3,965 visitors in the destination weddings category.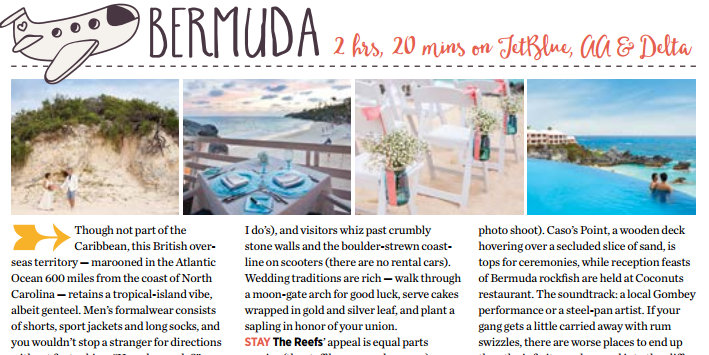 The article says, "Though not part of the Caribbean, this British overseas territory — marooned in the Atlantic Ocean 600 miles from the coast of North Carolina — retains a tropical-island vibe, albeit genteel.
"Men's formalwear consists of shorts, sport jackets and long socks, and you wouldn't stop a stranger for directions without first asking, 'How do you do?'
"Pubs and pink beaches coexist in perfect harmony [Stonehole Bay is popular for I do's], and visitors whiz past crumbly stone walls and the boulder-strewn coastline on scooters [there are no rental cars].
"Wedding traditions are rich — walk through a moon-gate arch for good luck, serve cakes wrapped in gold and silver leaf, and plant a sapling in honor of your union."
The Destination Weddings & Honeymoon feature is below [PDF here]:
Read More About