[Opinion column written by Chris Famous]
Dear Mr. Bill Hanbury head of the Bermuda Tourism Authority [BTA]:
"You can't have your cake and eat it too."
How many of us have heard that from our parents and or elders? I suspect just about all of us.
On January 7, 2015, as the head of the BTA you proclaimed that Bermuda will be marketed as an Atlantic destination, and not as a Caribbean destination. Separate in the sense that we have to clearly define to the tourist market that we are not geographically in the Caribbean.
Well, a few things stand out as contradictory to this desire.
Mulligans?
On January 24, 2015, Fairmont Hamilton Princess made this posting on Facebook:
"Business Insider declares beautiful Bermuda as the best Caribbean island for golfers!"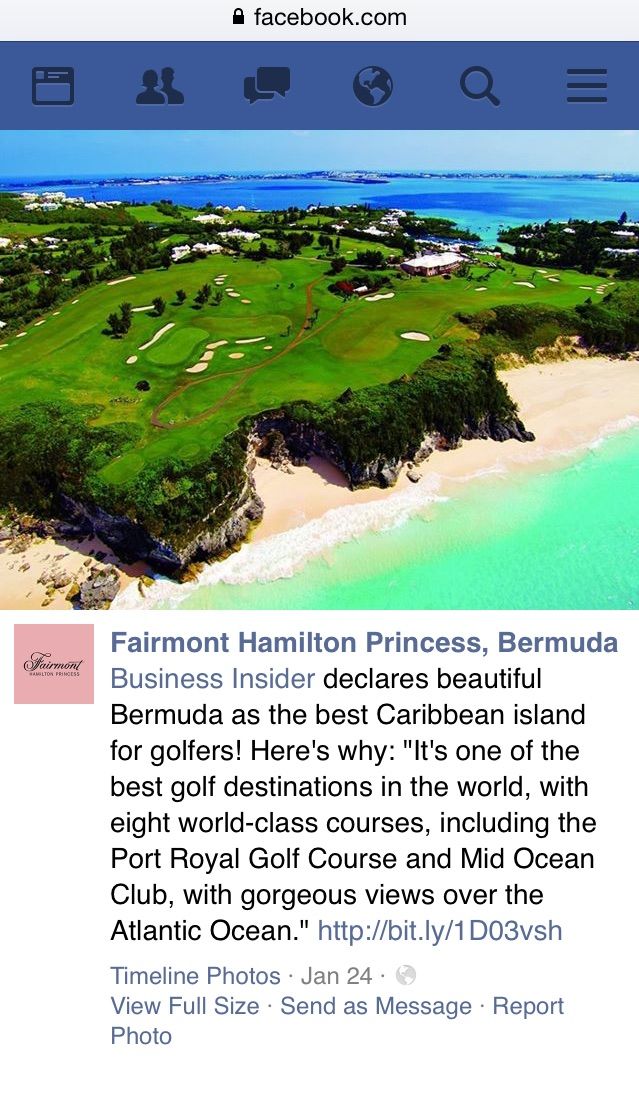 So, here we have one of our main hotels latching onto a claim that we are the best Caribbean island for golfers. Did you forget to give them the memo that "Bermuda is not in the Caribbean" and that we should be sure to remind savvy business travelers each day that we are not in the Caribbean?
Pass the Coppertone.
On February 2, 2015, local tourism enthusiast and concert promoter Tony Brannon took a fair bit of time to post on many persons Facebook page, including mine, that we must do an online vote to ensure that Horseshoe beach was voted as the top beach in—drum roll, please—the Caribbean!
"BERMUDA and ALL my friends….. You have until 12 noon tomorrow to vote for Horseshoe Bay as the Best Beach – Your vote may help Bermuda beat Barbados!"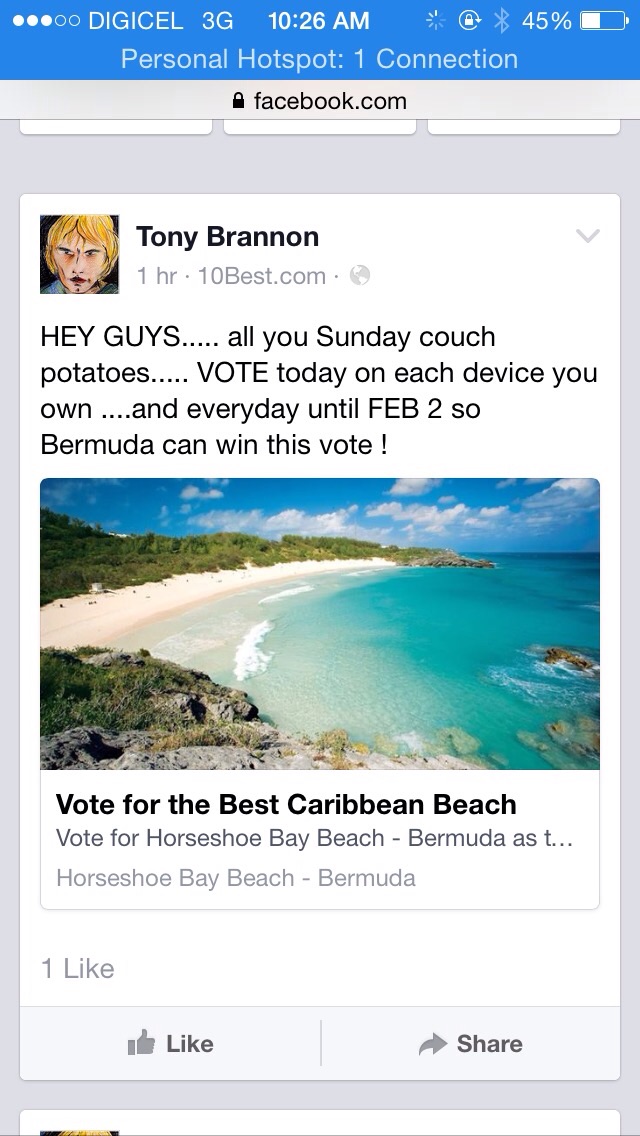 He encouraged Bermudians to vote multiple times to ensure that we outvoted Barbadians.
Well, now, how's that for irony? He wants Bermudians to out vote Barbadians to prove our beach, which is not in the Caribbean, is the best beach in the Caribbean, over a beach that is actually in the Caribbean.
Technically, this could be considered fraud. Again, Mr. Hanbury you probably need to give Tony Brannon the memo: "Bermuda is not in the Caribbean."
Tea or Tempo?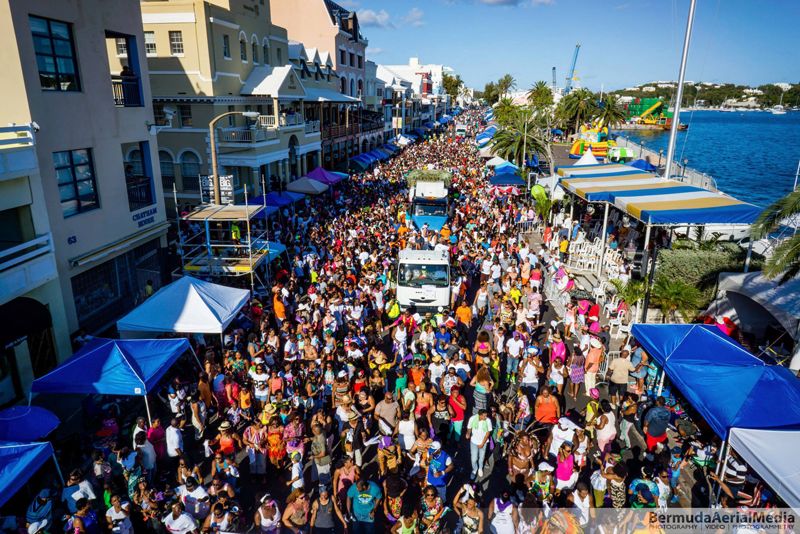 "Consumers are interested in Bermuda's British traditions: tea time, cricket, focus on service." – Bill Hanbury
The BTA wants us to be more British. Well, Mr. Hanbury, the majority of Bermudians do not drink tea like the British and the majority of us do not eat fish and chips wrapped in newspapers. However, the majority of Bermudians of every ethnicity have grown up following Reggae and Soca.
The majority of Bermudians have been to the Caribbean for Sunsplash in Jamaica, Test Match in Antigua, cruises to every Caribbean island, and Trinidad for Carnival every February. There are more Jamaican restaurants than British restaurants.
Clearly you can take us out of the Caribbean. But you cannot take the Caribbean out of us.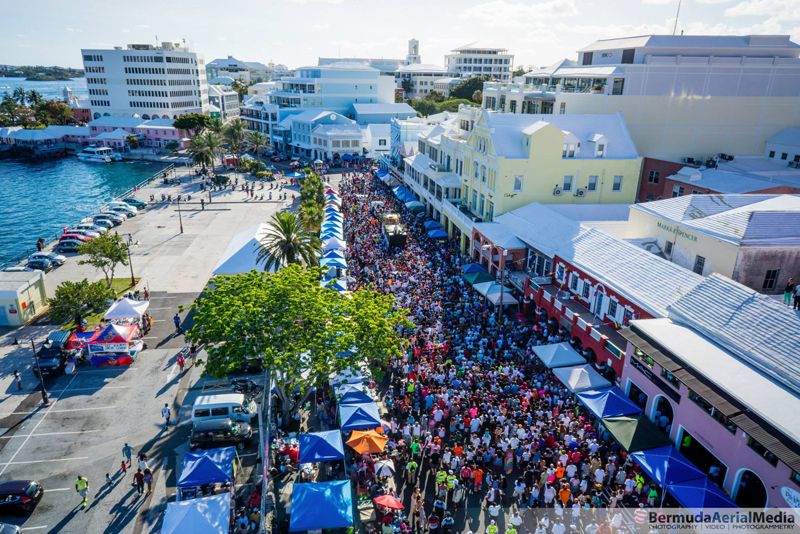 We are Caribbean.
You cannot on one hand tells us we are not in the Caribbean, then on the other hand have prominent persons in the Tourism industry brag about us having the best beaches or golf courses in the Caribbean. Quite simply, you cannot have your cake and eat it, too.
On the flip side, I do love those videos you guys have been putting out using authentic Bermudians.
Cheers Guv.
- Chris Famous can be contacted via email at Carib_pro@yahoo.com or Twitter at @ryderz777
Read More About
Category: All