The Bermuda Police Service [BPS] and The Duke of Edinburgh's International Award [DofE] have signed a Memorandum Of Understanding [MOU] to offer the Award programme as a personal and professional development resource for the Bermuda Police Cadet Programme, which serves young people between the ages of 16 ‐ 21. The BPS programme supports the academic attainment of each police cadet and grooms them for a successful policing career in service to the community.
Commissioner of Police Michael DeSilva [far left] and Traci Burgess, National Director for The Duke of Edinburgh's International Award Bermuda [far right] with 13 police cadets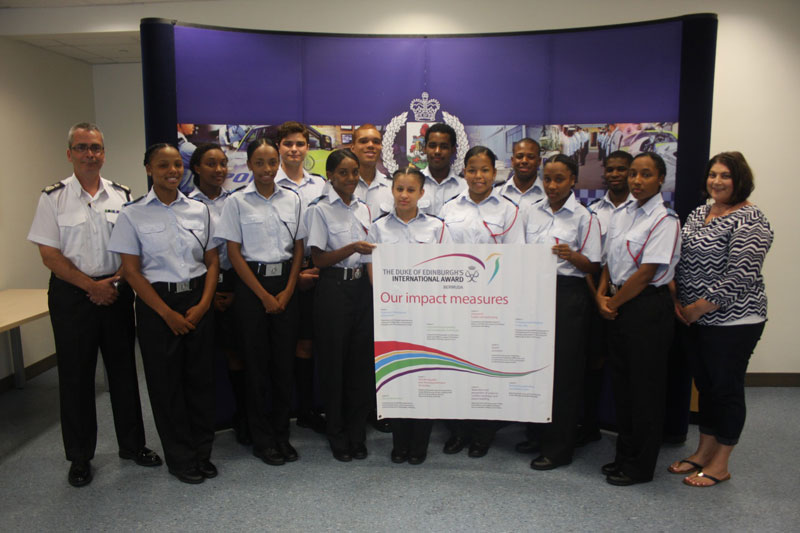 The Duke of Edinburgh's International Award [DofE] Bermuda equips young people with opportunities to achieve their greatest potential. Participation improves personal skills, increases physical fitness, engages in community services and promotes individual and collective achievement. DofE develops well‐ rounded global citizens who take pride in themselves and their communities, thus supporting personal and academic attainment and contributing to the reduction of anti‐social behaviours.
Commissioner of Police, Michael DeSilva, who started his own career in the BPS as a police cadet, said, "We are excited for the opportunity to partner with DofE Bermuda and offer this well‐established development programme to our cadets. The goals of the cadet programme, aside from serving as a recruiting source, include providing opportunities for personal and professional growth and developing deportment, good citizenship and leadership.
"These skills and attributes have life‐long applications, whether the cadets join our ranks or they move on to pursue other careers. The DofE will enhance other aspects of the cadets' training schedule that includes Outward Bound Bermuda and our community service programme. We are also exploring opportunities to expand the DofE into future Recruit Foundation Courses for new police constables as well as our management training programme."
Traci Burgess, National Director for The Duke of Edinburgh's International Award Bermuda elaborated by saying "This partnership has been developing for a while now, and we are elated to have signed the formal MOU with the BPS. The Commissioner has been highly involved with seeing this partnership come to fruition and the cadets, under the direct leadership of Police Constable Anton Gilbert and Chief Inspector Hashim Estwick, have been engaged with numerous DofE community initiatives over the past several months.
"We are happy to now officially launch the full DofE programme structure within the Bermuda Police Service, and training in all areas of the Award will commence this September. Five cadets recently graduated their cadet programme and will have the opportunity to become trained DofE Award Leaders and be partnered with the island's five public middle schools to assist with delivery of the exclusive Bermuda Bridge Award programme for twelve and thirteen year olds. The remaining active cadets, many of whom have previous experience at the Bronze and Silver levels of the Award, will be enrolled as Gold level DofE participants."
Police Cadet Hans‐Peter Roser, who is a recent recipient of his DofE Gold Award, said: "My involvement with DofE taught me that giving to the community builds reputation and builds connections between myself and others. As I mature into adulthood, I plan to give back to the community in a way that not only brings everyone close, but also in a way that helps build character in each individual."
Contact DofE Bermuda for additional details regarding participation for ages 12 ‐ 25, volunteer opportunities and donor partnerships. Call 537.4868 or Email director@theaward.bm, visit their official website theaward.bm.

Read More About
Category: All