The Bermuda Cricket Board has secured a cricket based scholarship for Leilanni Nesbeth to join Bede's School in Sussex, UK in September 2015.
Leilanni will enter Year 10 of the senior school and will pursue multiple GCSE courses [Bede's offer a choice of 40 subjects] in addition to the opportunity to pursuing her cricketing development.
This award follows the footsteps of last year's placing of U19 national captain and senior squad player Delray Rawlins at Bede's. During his first year Delray's game has development immensely and he has been selected to the Sussex County Academy squad.
Left to right: David Lang from the Bank of Bermuda Foundation, Leilanni Nesbeth & BCB's Fiona Holmes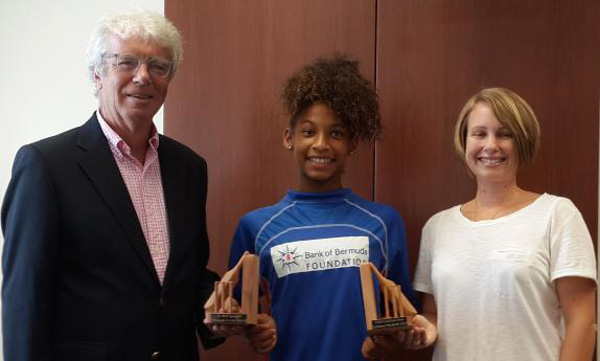 Neil Speight, Executive Director of the Bermuda Cricket Board said: "It is especially pleasing that we are able to further our strong partnership with Bede's. Bede's has an outstanding reputation for providing academic excellence combined with exceptional sporting development. Leilanni will be joining a growing number of young Bermudian children flourishing in the very unique environment that Bede's offer."
Mr. Speight continued, "The BCB thanks the Head of School Dr. Richard Maloney, who has taken a personal interest in Leilanni's development and to the exceptional Head of Admissions Sally Wellings for making this opportunity possible.
"In addition, I would also like to thank the Bank of Bermuda Foundation and the XL Foundation whose support of the National Academy has been instrumental in the development of our young players such as Leilanni."
Leilanni Nesbeth said, "I am extremely grateful for the work of the BCB in making this dream a reality. The opportunity to study at a prestigious school that already has strong Bermuda ties will provide me with incredible academic and sporting opportunities.
"I take this chance with the knowledge and responsibility that not only do I have an amazing chance to develop myself but I hope that I can inspire many more young girls to enjoy the great sport of cricket and follow in my footsteps."
Sussex has been described as the strongest County for girl's cricket in the UK and the schools system is very competitive. Bede's, in particular, have strived to develop the girl's game and have ambitions of being one of the strongest schools in the Country.
Bede's entered an U13 girls' team in the 2015 Lady Taverner's U13 indoor tournament with 27 other schools. A development team was created as a squad, comfortably the youngest in the County. Bede's came 3rd out of the 27 schools in Sussex and reached the County finals, a fantastic achievement for such a young team. There are now 4 County players from that team in the Sussex squads.
Additionally, Bedes entered the National Lady Taverner's U15 Indoor tournament. Bede's beat out 27 other teams to win the competition. In the County finals day, Bede's defeated Brighton College for the 3rd time this term. Brighton College has been the benchmark for girls school cricket and the most successful in England for the last 20 years so this achievement is particularly significant.
Bede's cricket coaching staff includes ex England international and Sussex captain, Alan Wells, ex professional cricketer Neil Lenham, and Petch Lenham, one of the highest qualified female cricket coaches in England.

Read More About