Bermuda Tourism Authority summer interns Adrian Hassell and Amber Wilson just completed their time in the Bermuda office and the BTA have shared the essays of each intern describing their experience.
Adrian Hassell [20] is a Bermudian studying hotel management at Brock University in Canada. He is a Bermuda Hotel Association scholarship winner. Amber Wilson [20] is a Bermudian studying anthropology at University of Exeter in the United Kingdom.
Essay by Adrian Hassell
If feels like just yesterday I was sitting in the board room being interviewed by Willa, Kyle and David. Time certainly does fly, but of course all great experiences must eventually come to an end. I can wholeheartedly say that I have enjoyed every second of the internship, which is without a doubt a product of the nurturing, friendly, and lively environment of not only the office, but of the many great people that work here day in and day out.

During my time at the Bermuda Tourism Authority I have worked on numerous project and assignments, such as the HUB menus, the #lovemybermuda campaign, the vacation rentals inventory, media monitoring, ad inquiries, CRM merging, Photoshop work for the fish sandwich competition, presentations, video editing and organizing itineraries to name a few.

Although I have completed and produced a lot of work during my eight weeks, I can say that I have learned a lot in the process too. I learned about the inner workings of a DMO, the many positions and how they contribute to the overall picture and functionality of such an organization.

I also learned new knowledge and skills about Bermuda and computer programs such as Photoshop and Excel during the completion of other assignments and projects. I know for certain that this knowledge will benefit me in many of my future endeavors whether it be at University, the BTA or elsewhere. I enjoy learning new things and that is one of the reasons that I found working here very interesting. I was not just spitting out work, I was learning information and skills that will not only help benefit me in life, but my career goals as well.

In regards to the performance of the Bermuda Tourism Authority I believe that the staff and the organization as a whole are doing an exceptional job despite the level of public scrutiny in a politically fueled environment and given the current global political and economic hurdles in regards to globalization, stiff competition from other Caribbean nations, airline monopolies and the devaluing of the Canadian dollar. Unfortunately, most people want instant results and do not understand the woes that Bermuda must endure as a tourism destination. Having been behind the scenes I have witnessed and understood the purpose of the seeds that are currently being planted that one day will bear a tree with plentiful fruit.

John Heywood, an English play writer once wrote "Rome wasn't built in a day, but they were laying bricks every hour". At the end of the day Rome is just the result, the bricks are the system. The system is greater than the goal. Focusing on how to reach the ultimate goal is more important than worrying about the outcome. Of course, there's nothing necessarily impressive about laying a brick. It's not a fantastic amount of work. It's not a grand feat of strength, stamina or intelligence. Nobody is going to applaud you for it. But laying a brick every day, year after year.

That's how you build an empire. The same goes for the Bermuda Tourism product. Day after day the staff of the BTA are laying bricks, which might seem miniscule, but eventually will build an empire. This is something that I feel most Bermudians whether they want to hear it or not need to be educated on and made to understand.

That being said I believe there is always work to be done. For example, the opening of the Cuban boarders to the American tourist. Most will see this as a loss to Bermuda Tourism, but I see it as an opportunity. According to recent statistics 1.1 million Canadians travel to Cuba every year. Living in Canada for the last two years has given me an opportunity to interact and observe the travelling habits of the average Canadian. I have come to the conclusion that many Canadians enjoy travelling to Cuba due to the simple fact that it is not plagued with American tourists. If Cuba opens their doors to American tourists I feel visitor arrivals from Canada to Cuba will decline. This is an opportunity for Bermuda Tourism to establish a more pronounced marketing strategy in main Canadian cities such as Toronto and Ottawa. Furthermore, the Canadian dollar is at an all-time low, reducing marketing costs. Although the return will not be immediate, we could expect to see an increase in Canadian visitors when the Canadian dollar returns to normal levels.

Second is the possibility of exploring a new marketing campaign in untapped affluent countries in main land Europe. According to 2014 statistics provided by the International Monetary Fund main land European countries such as Luxembourg [111,716USD GDP per capita], Norway, Switzerland, Denmark and Sweden are in the top ten for having the highest GDP per capita in the world. If we can find a way to not only increase marketing, but also explore a second affordable airline from Europe I believe we could see promising returns from this part of the world. Citizens from these countries already travel to other Caribbean nations and faraway places such as Fiji, so why not Bermuda?

In conclusion, I have thoroughly enjoyed my short time at the BTA and although there is a lot to learn, I have acquired a large amount of useful knowledge during my time here. I would personally like to thank not only Willa, Kyle and David for their help, assistance and hospitality, but also everyone at the BTA. It has been a great experience and I would like to come back next summer for a longer period of time if that would be possible and if everyone can put up with me for more than eight weeks. But for now I would like to extend my thanks and I will see everyone next summer hopefully!
Amber and Adrian are on the far left in blue shirts at Gombeys at Clearwater Beach with the BTA Product & Experiences team during site visits to east end beaches this summer.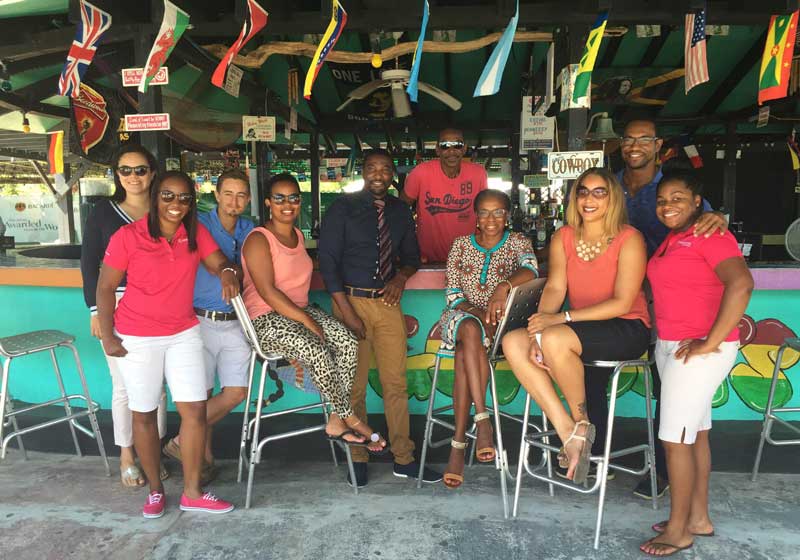 Essay by Amber Wilson
The BTA recently received a call from an individual who wished to share the highlights of a family wedding held recently on the island. The caller had a distant family connection to the bride, but neither the bride nor the groom reside in Bermuda. As I am coming to the end of my 8 week BTA summer student internship, I was assigned the task of determining what about this wedding made the individual feel that the rest of the island should hear about it.

The wedding was held at The Reefs Hotel on a recent Friday at 5:00 p.m., with approximately 83 guests in attendance. However what made this wedding unique was that out of the attendees, 80 people flew in from England, California and the East Coast of the United States for the ceremony. They stayed at a variety of accommodations ranging from hotels to vacation rentals to cottage colonies, with most booking four to five nights.

Some people may think this kind of tourist activity has no effect on them, and that this wedding holds no real significance when so many others are held throughout the year. Before I began my summer with the Bermuda Tourism Authority, I may have misguidedly shared this same attitude. However, the economic impact to the island as a result of this one wedding was tremendous and highlighted the far reach that a single event can have on multiple local service providers. These guests dined en masse at restaurants, enjoyed water excursions, rented mopeds, rode in taxis and utilized a multitude of additional services during their visit; from a local dry cleaning business to a popular florist.

Through my summer of interacting with local tour operators, first time visitors to the island on harbor nights and working with some of the fantastic and hardworking people at the BTA, I have had the realization that we all have a part to play in making the tourism industry a success. Everyone has a role in making events like this a success, both for our visiting guests and for the island.

Tourism is about more than having beautiful hotels and pristine beaches. It is about a community working together to make their country the best it can be in order to display and share it with the rest of the world. Bermuda's beauty is second to none and our people are unrivaled in their pride, but somewhere along the way we seem to have lost sight of these facts. It is going to take all of us to help Bermuda to make a turn in the right direction. We need to stop having such a negative attitude towards an industry that needs us to make the lasting change that will see the island into a brighter and more prosperous future.

This couple could have chosen to have their wedding anywhere, and it probably would have been cheaper to do so. However they made the decision to bring it home, and share Bermuda with their friends and extended family members. Events like this not only benefit the local economy, but they create a group of people who will return to the island, and will share their experiences with others in their respective communities. From the end of April to the end of July of this year, approximately 2,491 visitors travelled to the island with the sole purpose of attending a wedding. Each had the potential to lead to a proliferation of incoming visitors based on our having provided them with an experience worth raving about.

A large segment of the local population seem to have become disenfranchised with Tourism and many seem to see Bermuda as not ever being able to restore itself to its former state. That may be so, but Bermuda is not the same Bermuda from the 60's, 70's or 80's, nor is the world. In order to succeed we need to become reinvested, and say 'I do' to tourism, because if we do not have the entire community on board, we are destined to fail.

What was so special about this particular wedding? It, along with the countless others like it, served as evidence that the tourism industry is thriving; in the words of a cousin of the bride, 'Bermuda still has it!'
Read More About