Hospitality professionals are invited to attend two informational workshops that will pave the way for a new tourism education programme in Bermuda's primary and middle schools.
A spokesperson said, "Bermuda Tourism Authority [BTA] is hosting the workshop twice at the Hamilton Visitor Services Centre to unveil its Hospitality Skills = Life Skills programme and encourage participation in the schools initiative by industry experts. The programme teaches students aged 11–13 years the importance of being "hospitable" and raises awareness about tourism as a viable career.
"We welcome all industry professionals to come and learn about this programme and then join us in classrooms as volunteers to talk about their respective career journeys," said BTA Chief Operating Officer Karla Lacey. "No one can speak to industry experience like they can, so we want to help them share their story with young people who may follow in their footsteps."
"Workshops are slated for the next two Thursdays—tomorrow, November 7 [5:30–6:15 pm] and November 14 [4–4:45 pm], both at the Hamilton VSC, 10 Front Street.
"Attendees will hear details of the volunteer programme, to be launched in both public and private primary and middle schools in the new year. The BTA hopes to attract professionals from different backgrounds and a range of jobs within the hospitality sector.
"We encourage tourism industry employers to give time off to staff who would like to attend the workshops and participate as industry volunteers and mentors in this programme," Lacey said.
"To participate in the workshops to learn about the schools programme, please click here to register."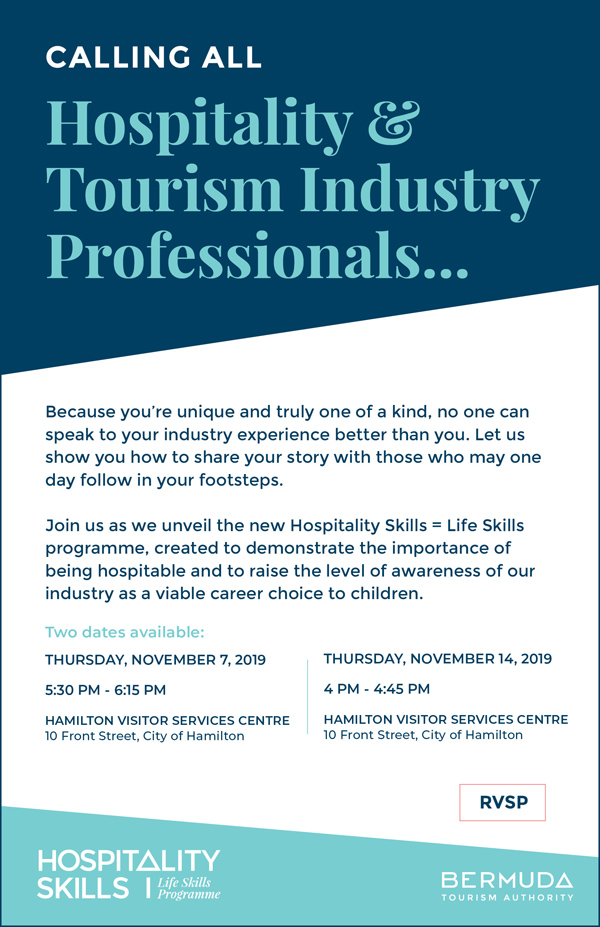 Read More About
Category: All