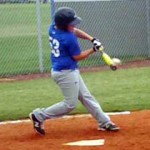 The Under 12 World Summer League at IMG Baseball Academy concluded, with Sam Resnik being named League MVP.
While Resnik's team finishing the regular season 9-1, they came up short in the Championship game.
Resnik pitched 3 1/3 solid innings, giving up 1 run. Resnik was 1-2 at the Plate and made a great play in left field for a Double Play.
Dan Simonds, director of the baseball program at IMG presented Resnik with the award following the game, saying: "We really enjoyed having Resnik in our program for the last 4 weeks. Not only is he a very talented player but he is a terrific kid. All the coaches were impressed with his attitude, coachability and work ethic."
Coach Edgar Cacerese, mentioned "Resnik is quiet, but leads by example and is a great role model for the other players."

Read More About