September is Sickle Cell Awareness Month and in recognition of this, the Bermuda Sickle Cell Association [BSCA] is planning a number of educational and fundraising events for the wider community and its members.
The BSCA was founded in 2012 with the mission of serving individuals with sickle cell disease and their families by offering emotional, social and financial support and to raise community awareness about the disease.
The BSCA also seeks to encourage those living with sickle cell and their families to adopt healthy habits that are essential to keeping them well.
BSCA President Salintae Tuzo-Smith says, "We will be kicking off the awareness month on Friday, August 28 with a Tag Day in the City of Hamilton and a Sunset Walk along the Bailey's Bay Railway Trail on Friday, September 4 at 6:15pm.
"The event is free of charge and we encourage you, your friends and family to come out to support, get active and enjoy this beautiful part of the island with us."
This year, the BSCA has partnered with the Bermuda Hospitals Board and the Bermuda Educators Council to provide professional development opportunities during the Awareness Month.
The BSCA has invited Dr. Edward Donnell Ivy, Medical Officer at the Maternal and Child Health Bureau, United States Federal Government, and Dr. Brenda Miles, Clinical Paediatric Neuropsychologist, employed by the Dufferin-Peel Catholic School Board, Mississauga, Ontario, Canada, to speak with health care professionals and educators, respectively, on topics pertaining to sickle cell care, advocacy and its effect on learning.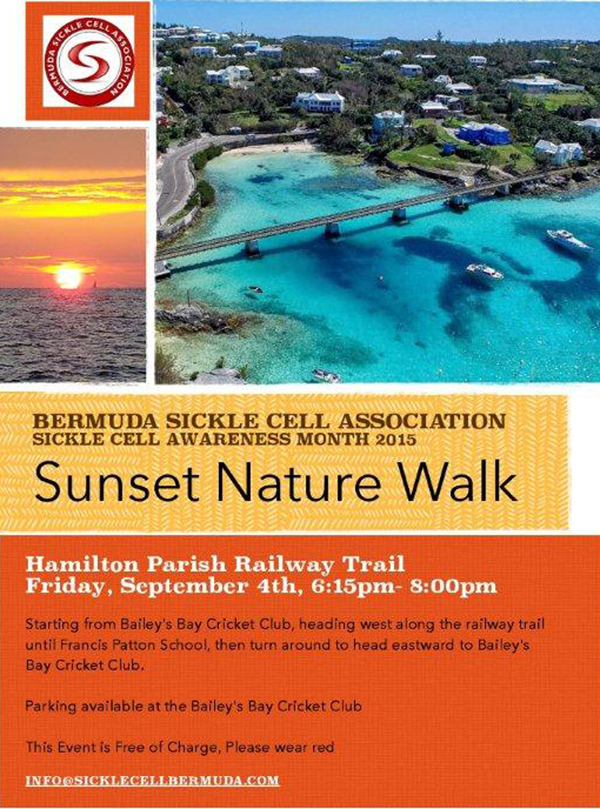 Dr. Ivy, who lives with sickle cell disease himself, will be the guest speaker at a fundraising luncheon on Saturday, September 19 at the Coco Reef Hotel at 12:00pm. General tickets are $75 and patron tickets are $100.
To request tickets or additional information about the Sickle Cell Awareness Month events or becoming a member, please email info@sicklecellbermuda.com or join us on Facebook [Bermuda Sickle Cell Association group page] or Instagram [@bdasicklecell].
Sickle Cell Awareness Month 2015 Schedule of Events
Date - Event/ Activity
Friday, August 28 - BSCA Tag Day in the City of Hamilton
Friday, September 4 - Sunset Walk [Bailey's Bay to Crawl Hill]
Wednesday, September 16 - BSCA on Health is Wealth with Nurse Beverly Howell [5:30pm, Magic 102.7]
Thursday, September 17 & Friday, September 18 - Continuing Medical Education for health care workers [CMEs apply]
Friday, September 18 - Professional Development for Teachers and the General public
Saturday, September 19 - Fundraising Luncheon featuring guest E. Donnell Ivey, MD.

Read More About
Category: All