CDD Bermuda said they would like to thank all participants of Colossal Raffle event, and extended their gratitude to those who made a special donation to the programme.
"The event was a resounding success on all levels! We could not have done it without the continued support of our channel partners who donated some amazing prizes, volunteers and our dedicated staff" said, Deborah Blakeney, Executive Director of CDD Bermuda.
Left to right: [Grand prize winners: Richard Vallis, Lynette Powell, Laila Prado], Rachel Bailey, CDD Fundraiser coordinator and Andrews, Operations manager, Auto Solutions.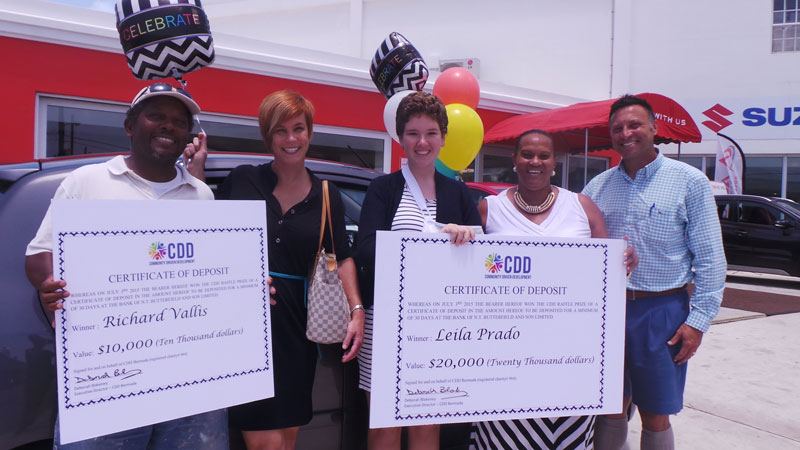 A spokesperson said, "CDD Bermuda's annual Colossal Raffle was held on July 3rd and below is our list of winners. Congratulations to all CDD prize winners! We look forward to your continued support."
Grand Prize Winners:
Leila – $20,000 Certificate of Deposit
Richard – $10,000 Certificate of Deposit
Evernell – $5,000 Certificate of Deposit
Lynette Powell – Hyundai i10 Car
Name – Winning Prize
David Kellman – Pizza Oven
Voorhees Joell – Pizza Oven
Ross Smith – Clairns Gift Basket
Justin Freinsenbruch – Ceiling Fan
Chops Faria – Demco $100 Gift Certificate
AB Warner – Bottles of Wine
Lisa Wheathead – Dinner for 2 at Little Venice
Earlette Stevens – Dinner for 2 at Lido
CDD – Dinner for 2 at Blu
I won the Car!!! – $200 Gift Certificate AS Coopers & Sons
Gail Shechatman – Golf for two at Tucker's Point
Alex Wheatley – Mid-Ocean Golf for Four
Jeremy Parfit – Royal Gazette 1 year subscription
Mike – Royal Gazette 1 year subscription
Heather Matthews – Royal Gazette 1 year subscription
Charles Etta Simmons – Royal Gazette 1 year subscription
Lucky Hunter – Royal Gazette 1 year subscription
Dwight Richards – $250 Brown & Co gift certificate
Stephanie – Weekend stay for 2 at Elbow Beach
Marie Hargun – Newstead I night stay for two
Connie Mederios – Fourways Inn 2 nights stay for two
Dennis DeShield – $500 Gift Certificate at Cellone
Arthur Hodgson – $500.00 Gift Certificate at Lindo's Foods
Alana Smith – $500.00 Gift Certificate at BELCO
The CDD programme focuses on strengthening skills, competencies and the abilities of women on financial assistance in order for them to become self-sufficient. Two groups of women, 34 in total, have now progressed through CDD programme which is expanding to include men.
The third group of women began their journey in June 2015. Government's incubation of the programme has ended and CDD transitioned, effective April 1st, 2015, to a fully functional registered charity .
Read More About
Category: All, Entertainment