[Updated with video] This morning [June 11] Minister of Community, Culture and Sports Wayne Scott attended the graduation ceremony for the Community Driven Development [CDD] programme.
This is the first graduation ceremony of the CDD programme which began in March 2013 under the auspices of the Department of Human Affairs and the Bermuda Women's Council.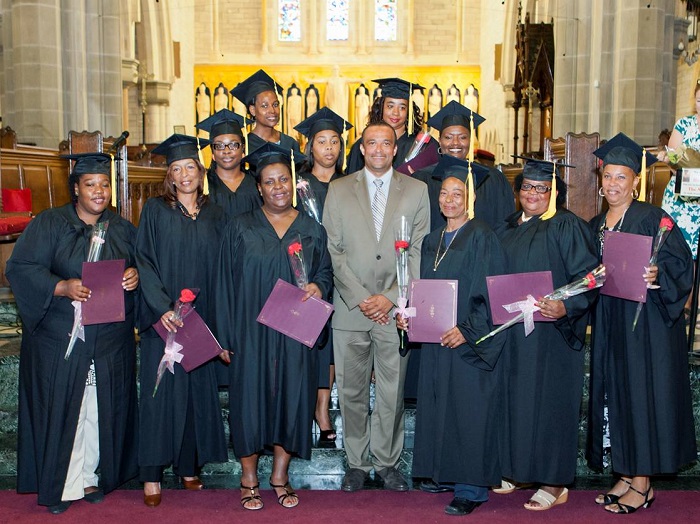 A Government spokesperson said, "The Department of Human Affairs and the Bermuda Women's Council with the full support and assistance of the Department of Financial Assistance invited a number of women who receive financial assistance and child day care allowance to join the CDD project.
"Following assessment, The Department of Human Affairs staff recognized that training would be required in the areas of basic life skills, business skills, deportment, self-esteem, counseling in the areas of anger and relationship management and further education in the area of attaining the GED, early childhood education, and nursing assistance.
"An agreement was prepared setting out the roles and responsibilities of the participants and the Department of Human Affairs staff, in all, 20 participants signed the agreement and the project formally launched in July 2013.
Guest speaker Rachel Bailey:
"A four-pronged approach is being used to increase skill levels and competencies of participants. In partnership with several businesses, community organizations and individuals, participants are benefiting from: a) workshops and seminars; b) field trips; and c) formal education – meaning the GED course and PACE (Professional and Career Education) Courses as well as other courses.
"The fourth prong involved the participants taking on volunteer and work shadowing opportunities and the Bermuda Women's Council and the Department of Human and ACE Bermuda Women's Forum.
"Fifteen hours of workshops, field trips, GED/PACE school hours, as well as volunteer and work shadowing opportunities were provided every week. Since March, ten of the participants have enrolled in the GED and two in PACE courses. Today 11 women were awarded certificates of completion at the Graduation ceremony."
Read More About