[Opinion column written by Larry Burchall]
In early February 2015, months before the Minister for Finance announced the $200 million two year Loan Facility from Butterfield Bank, I wrote that we should not go borrowing again. After all, we had just borrowed $800 million in 2013.
I saw that we had failed to grab control of spending and the future national danger that this presented. Now I see the consequence that has arrived and that should shake and disturb everybody.
Government has a Redline day. What exactly is Redline day? It is the day on which the Bermuda Government reaches the point where it absolutely cannot repay any of the Debt that is due for repayment on that day. Until June 30th 2015, that Redline day was July 20th 2020.
On July 20th 2020, the Government is obligated to repay the $500 million that it borrowed in July 2010. Since it is now impossible for the Government to build up a $500 million surplus between now and 2020, the Government would be forced to re-finance that $500 million. So July 20th 2020 would be the Government's Redline day.
By not better managing the proceeds of that $800m loan, and consequently being forced, just twenty months later, into taking up this additional $200m two year Loan Facility, the Government has pulled that Redline day three years closer.
Redline day will now arrive on a day in July 2017 – three years earlier.
Redline day arrives three years earlier because by July 2017, when the two year Loan Facility expires, the Government will not have built up sufficient surpluses to repay that freshly borrowed $200 million. Therefore the Government will be forced to start re-financing all Debt three years early in July 2017.
That is bad news. Very bad news. But note that no one is telling you.
What The Overall Chart Displays
The two Tables show the total Debt that the Government owes and the dates on which those Debt obligations are due to be repaid.
Table One shows where the Government stood on 1st June 2015, before taking up the $200m Butterfield Bank two year Loan Facility.
Table Two shows the changed and new position now that the two year $200m Loan Facility has been taken up. Both tables show the annual aggregated interest rate, how the annual interest cost is derived, what that annual interest cost is, and what the annual Sinking Fund contribution is. [FYI – The Sinking Fund is a kind of 'savings account' that receives the money that Government is legally required to put aside every year in order to pay-off the Debt.]
Redline:- The Redline section shows the day on which Government reaches the point where it is impossible for Government to repay the Debt that falls due on that day and where, based on current and near-term [out to 2020] revenue and growth projections, Government will be Forced to re-finance or roll-over that Debt and all Debt that falls due thereafter.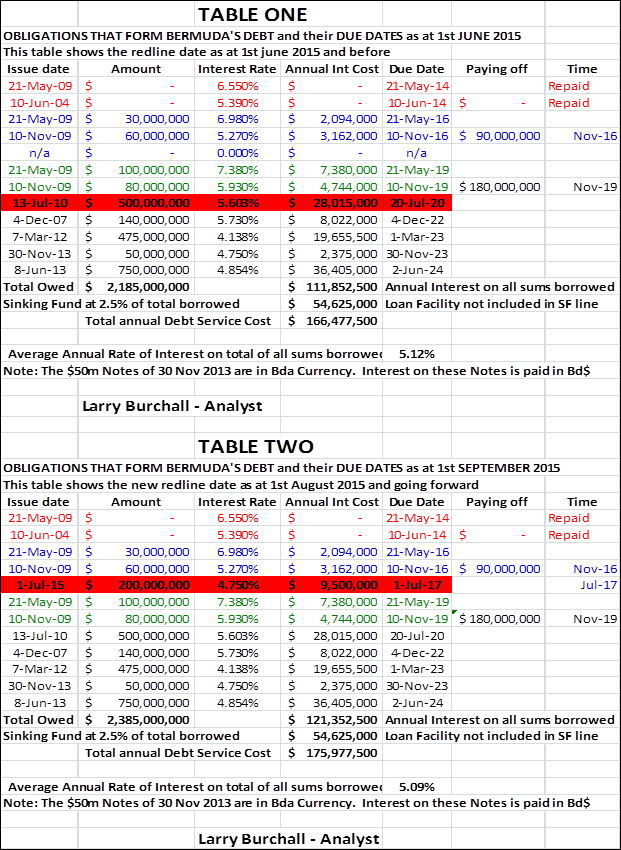 - Larry Burchall

20 Most Recent Opinion Columns

Opinion columns reflect the views of the writer, and not those of Bernews Ltd. To submit an Opinion Column/Letter to the Editor, please email info@bernews.com. Bernews welcomes submissions, and while there are no length restrictions, all columns must be signed by the writer's real name.
-
Read More About