[Opinion column written by Larry Burchall]
Theresa May's snap decision to call a General Election in June in the UK, got me thinking about Bermuda.
With the OBA down to 17 guaranteed votes in a House of Assembly where 19 votes constitutes a Parliamentary majority; with six economic 'fundamentals' still not lining up to pull Bermuda out of its nine-year recession; with the next General Election less than twelve months away; who to vote for in Bermuda's upcoming General Election is an avalanche issue.
By mid-February next year [2018], votes will have been cast. A national decision will have been made.
So who should get your vote? I cannot give you a full and easy answer. There are too many factors rumbling around.
However, my partial answer is that you should vote for the Party that displays the wisdom and political discipline to break completely from the recent past and forge a better way forward.
The break? The Party seeking power after February 2018 [sooner if a General Election is called before 17th December 2017] makes one small amendment to the Government Loans Act, 1978.
The suggested amendment is highlighted and is completely self-explaining.
Government Loans Act, 1978.
Authority of Minister of Finance to borrow
2 [1] The Minister may, in such manner and on such terms and conditions as may be agreed with the lenders, borrow sums within the limit established by section 2A:
[2, added new] Before borrowing such sums, the Minister shall inform the Legislature and shall get the approval of the Legislature before entering into any agreement to borrow such sums.
[3, renumbered] Any agreement between the Minister and a lender under the powers conferred by subsection [1] shall be made in the name of the Government and shall be signed by the Minister or, if so authorized in writing by the Minister, by the Registrar.
[4, renumbered] As soon as practicable after the execution of an agreement under this section the Minister shall inform the Legislature. Etc……
Under Bermuda's existing thirty-nine year old law, any Minister for Finance can borrow any amount that he or she chooses. Bermuda's Finance Minister is not required to get anyone's specific permission or agreement beforehand.
This lack of control of is wrong. In April 2017, Bermuda's incredibly high gross National Debt [$2.484bn, 252% of actual Revenue, and 41% of GDP] and consequential dangerously high Nanci feeding cost of $509,860 a day proves how wrong that law is.
This Table shows how many times Finance Ministers Seven and Eight flew overseas, borrowed from foreign lenders, flew back, and only then TOLD us what additional fresh debt we Bermudians now owed to foreign lenders.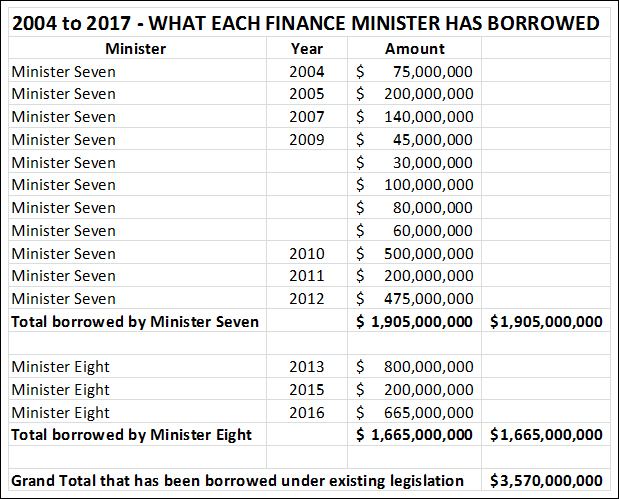 Between June 10th 2004 and October 1st 2016, Finance Ministers Seven and Eight borrowed a grand total of $3.57 billion and dumped the responsibility for repaying that Debt on us 50,000 on-Island Bermudians and any non-Bermudians who are working here.
Fourteen times in twelve years – on average, every 300 days – one or other of the two Ministers borrowed then dumped!
Apart from gender and political affiliation, the only difference between the Ministers, is that Minister Eight at least told us beforehand that he would borrow.
But simply telling us is insufficient.
No household, no small business, no big business, no nation, can operate with an uncontrolled Chief Financial Officer – unless that entity intends to self-destruct.
Those twenty-seven words would force every Finance Minister to rise in the House; explain why there is a need to borrow; what she/he seeks to borrow; what he intends to do with the borrowed money; and how and over what timeframe he/she proposes to pay back the borrowed funds.
That requirement gives Parliament the right and ability to question and then support or not support. It also gives Bermuda's debt-repaying electorate an opportunity to express their full feelings before getting dumped with more debt. In response to the Minister's request to borrow, the electorate can surround the House of Assembly; march in the streets; camp on their MP's doorstep; petition or call their MP; or take whatever other group or individual action deemed likely to succeed.
Or, as now, do nothing and meekly accept another load of dumped Debt.
The first party that acts to change that law by adding that twenty-seven word amendment before December 18th 2017 gets first pull on my vote.
What about your vote?
- Larry Burchall

20 Most Recent Opinion Columns

Opinion columns reflect the views of the writer, and not those of Bernews Ltd. To submit an Opinion Column/Letter to the Editor, please email info@bernews.com. Bernews welcomes submissions, and while there are no length restrictions, all columns must be signed by the writer's real name.
-
Read More About