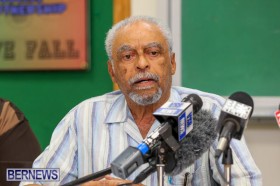 [Opinion column written by Larry Burchall]
You'll often see him walking around town. When you do, you should stop him and thank him.
Why? Because without the fight that he led, you would not be enjoying this Labour Day weekend, nor would you have things like vacation pay, health care, paid holidays, old age pension benefits, and the five day workweek.
Back in 1965 when, in a major confrontation, the men and women of the fledgling BIU first took on Bermuda's all-encompassing all-controlling business and political establishment; Bermuda was an almost primitive workplace.
Generally, all workers – black and white – worked Monday, Tuesday, Wednesday, half-day Thursday, Friday, and Saturday; for a five and a half day week.
No pay for the nine mandated public holidays. No sick pay. No health insurance cover. No looking ahead to retiring with a with a senior's pension to which you had contributed whilst you were working. No guarantee of compensation if you had a serious workplace accident.
'Bosses' could fire you at whim, though many, in that paternalistic age did not. Still, legally, they could.
In all, compared to now, those were primitive, almost Stone Age, working conditions.
But the man who you can see walking around town led the long fight to change all that. He stuck it out through decades of vitriol, venom, spit and spite, and much name-calling – some publishable, some not.
Through all that time he led a BIU that grew in strength and stature and that, by its fight, brought enhanced worker's rights to all; including all those white and white collar workers who publicly vilified and denigrated the men and women of the predominantly black and blue-collar BIU.
That man is Ottiwell Simmons – "Ottie".
Seeing him walking on Union Street last week, I pulled over, lowered my car window and shouted out: "Ottie! Thank you." He looked puzzled and came over. He asked what I'd said and I quickly explained. He said: "Hey, man, give me a ride."
I did. On the ride, I thanked him again and explained why.
Typically understated and certainly modest, he claimed he hadn't done much. But I know different.
The man is a giant. He led the way, creating the much smoother path and more civilized working conditions that all of today's workers – black and white, blue collar and white collar – can and do walk on and enjoy.
The next time you see "Ottie", stop and thank him.
- Larry Burchall

20 Most Recent Opinion Columns

Opinion columns reflect the views of the writer, and not those of Bernews Ltd. To submit an Opinion Column/Letter to the Editor, please email info@bernews.com. Bernews welcomes submissions, and while there are no length restrictions, all columns must be signed by the writer's real name.
-
Read More About