[Opinion column written by Larry Burchall]
Bermuda's true level of unemployment is likely much higher than the rate – seven percent [7%] and 2,348 Bermudian persons 2015 – that is officially and recently reported. The higher and real number creates a need for a massive difference in the fundamental approach to fixing Bermuda's economic woes.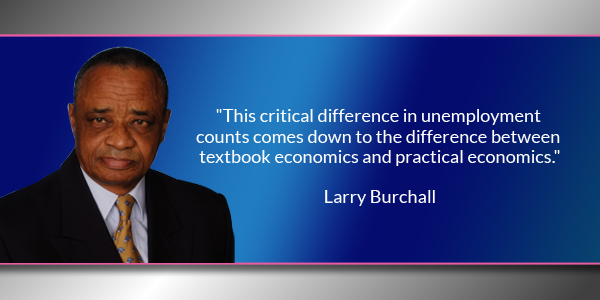 This critical difference in unemployment counts comes down to the difference between textbook economics and practical economics.
The start point is 2008. There were 40,213 people filling jobs and GDP [nominal] was at $6.18bn [adjusted].
Enter the 'textbook economist' who takes the universally agreed textbook view that the unemployed are persons who:
were working
are no longer working
are actively seeking work
will accept a job if offered a job.
If a person's profile fits all four bullets, then the textbook economist holds that they are properly counted as unemployed. Miss a bullet, and you may not or will not be counted as unemployed.
I have no argument with the thousands of textbooks that count unemployment that way. It's the way it's done in over 190 countries in today's world.
According to the textbooks, the Bermuda Government has said that Bermuda has between 2,348 – 4,000 unemployed Bermudian persons – in Bermuda.
Apart from unhappiness with the lack of precision in a national population that, by 2014, had dwindled to 61,777, I agree that there is significant Bermudian unemployment.
Now it gets hairy. We jump off the pages of those textbooks and land on the real-world 13,000 acre mid-Atlantic coral atoll at 32n64w known as Bermuda, where we find a unique economy. One that doesn't easily fit into textbooks.
The background facts:
In 2008, Bermuda had 40,213 people filling jobs; of these 13,033 were Guest Workers and 27,180 were Bermudian.
In 2015, Government reports that Bermuda had 33,319 people filling jobs; of these 9,743 were Guest Workers and 23,576 were Bermudian.
By 2015, according to these Government reports, Bermuda's economy had lost 6,894 jobs; of these 3,290 were Guest Worker jobs and 3,604 were Bermudian jobs. So a 2015 figure of 2,348 – 4,000 unemployed Bermudians does makes sense.
But now we have a 'rump number'. What do we do about that 3,290 number for Guest Workers? Three options.
Ignore the 3,290 [after all, it's only a number and maybe it will just go away…besides, they're foreigners.]
Determine that the number 3,290 exists but since it does not fit the textbook definitions, it is academically correct to ignore it [because it disagrees with all the textbooks].
Recognize Bermuda's unique economy and put that 3,290 into the matrix of problems that Bermuda's economy actually does have. [But watch out! This mandates that you ignore those thousands of textbooks.]
Textbook economists say that these 3,290 should be ignored. The primary reason is that these 3,290 have all departed these Somers Isles and are not therefore 'seeking' work in Bermuda. Therefore – according to the textbooks – they do not fit the third and fourth bullet points.
So, we ignore those 3,290 departed Guest Workers.
Then Bermuda reality bites. If Bermuda re-employs all currently unemployed Bermudians, then Bermuda will have zero unemployment. Bermuda will be back to an economy that employs every available Bermudian [bullet point four applies here] and the recession and all our economic woes will be over. Correct?
Wrong! Completely wrong!
With every Bermudian fully employed, Bermuda's national economy will have grown to where total employment rises to [33,319 + 2,348 said-to-be unemployed Bermudians] 35,667 and where the Bermudian segment gets back to [23,576 + 2,348 said-to-be unemployed Bermudians] 25,924. But this 25,924 is 1,256 less than Bermudian employment in 2008 [27,180].
Surely that is success. Surely, no more need be done.
Wrong, again!
At only 35,667 persons filling jobs in Bermuda, even with GDP possibly sniffing at [nominal] $6.1bn and Government revenue possibly sniffing at $1.0bn, Bermuda will still be in economic doo-doo.
With that combination, Bermuda's economy will still be too small to support Nanci without running deficits, or severely cutting spending, or continuously borrowing around $100 million a year, year after year, and Debt and Nanci therefore increasing every year, year after year.
That's Bermuda's problem. Bermuda's problem exists outside and beyond the academic parameters of those thousands of textbooks on economics.
Full Bermudian employment – textbook style – but an economy still in deep trouble. That's Bermuda's real world reality!
The answer? Toss the textbooks and trust analytical skills.
Entirely outside the realm of fusty academia, my analysis is that an economically successful Bermuda has – and since 1922, has always had – an 'oversize economy'; and that Bermuda's current economy must be made to grow to where it can carry its full financial and social obligations without cutting or borrowing.
That means that Bermuda's economy must take back the 2,348 said-to-be unemployed Bermudians, then re-add 3,290 departed foreign workers plus another 1,256 departed workers [Bermudians?] which gets us back to 40,213].
After that, add another 5,000/6,000 job fillers to drive Bermuda's filled jobs up to 45,000/46,000 and [nominal] GDP up to $7.9bn – $8.1bn level. It is only at this high GDP level that Government's Revenue will be able to feed Nanci, as well as cover its Personnel, Operations, and Capital spending – without borrowing or cutting.
Back to those 3,290 Guest Workers who have departed. Should we, in our unique Bermuda context, count them as unemployed? Or should we, as we do now, follow the textbooks and ignore them?
I do not ignore them. I factor them into all my thinking and writing. They must be counted.
However, when they are counted, Bermuda's real national unemployment rises from the currently touted 2,348 to the real 6,500/7,000.
No politician wants to step up to the cameras and publicly state that Bermuda's real unemployment rate could be more like 17%/18% and not the textbook and recently stated and reported [and politically far more acceptable] 7%.
Ain't nobody gonna' say or admit that! No way!
So Government, by Machiavellian consensus, ignores Bermuda's real world economy, Government, instead, chooses the virtual reality of academic texts in which all textbooks agree on those four bullet points.
However, in the real world at 32n64w, Mid-Atlantic, this is the reality:
ResPop fallen from a 68,800 high [in 2008] and reported, by Government, as 61,777 [in 2014]; so by 2014, at least 7,000 fewer people in ResPop.
In 2015, the total workforce was filling only 33,319 jobs [this is 126 jobs fewer than thirty years ago in 1986], and 6,894 fewer than in 2008.
Nanci-feeding costs of $187.4 million a year with 18% of all Government revenue earmarked to priority feed Nanci its daily ration of $513,356.
Since 2005, Government revenue has been oscillating around a too low average of $905 million; with revenue for 2015/16 [said to be $935.4m] stuck at the revenue level of 2007/08 [$928.5m].
Since 2005, spending an average total of $1,110 million a year
Borrowing an average $205 million a year every year since 2005. New administration but minimal change in spending and borrowing habits.
Gross Debt [$2,385 million] now more than 2.5 times Revenue [$935 million in 2015/16] and forecast to rise to $2,445 million in 2017/18.
Shouldn't we really do some clear and honest analytical thinking? Shouldn't we?
Or, will we continue to blindly stumble along making grand speeches while deliberately ignoring the rough patches that we must, ultimately, get through?
- Larry Burchall

20 Most Recent Opinion Columns

Opinion columns reflect the views of the writer, and not those of Bernews Ltd. To submit an Opinion Column/Letter to the Editor, please email info@bernews.com. Bernews welcomes submissions, and while there are no length restrictions, all columns must be signed by the writer's real name.
-
Read More About