More than 300 attendees from 15 different countries arrived at Pier 6 in Hamilton for Bermuda Convergence 2015 this week, a networking event covering Insurance Linked Securities and alternative risk transfer.
The event featured keynote speaker Jimmy Spithill from Oracle Team USA, and several panel sessions with key industry leaders were held, followed by an evening at the World Rugby Classic.
New to this year's networking event are "Bermuda Shorts" – brief 10-minute presentations where speakers share their recent research, a business idea, or an informed viewpoint. The rapid format provided attendees a brief overview on topics and ideas from thought leaders within the industry.
The idea of anchoring Bermuda as a centre of excellence for the creation and listing of ILS structures and hosting an exclusive event in Bermuda was conceived by ILS Bermuda Ltd., which is comprised of industry executives. The event was supported by the Bermuda Business Development Agency [BDA] and local and overseas sponsors.
Greg Wojciechowski, CEO of the Bermuda Stock Exchange and Chairman of the ILS Bermuda organising committee said, "We always look forward to welcoming our industry colleagues from all over the world back to Bermuda to meet, discuss important trends and to experience first-hand the infrastructure, industry critical mass and our innovative spirit all of which combined have resulted in Bermuda becoming an ILS centre of excellence."
Premier of Bermuda, Michael Dunkly commented, "Bermuda has a growing ILS market, which we believe will continue to evolve, providing not only catastrophe cover but also securitisation opportunities across the spectrum of insurance and reinsurance.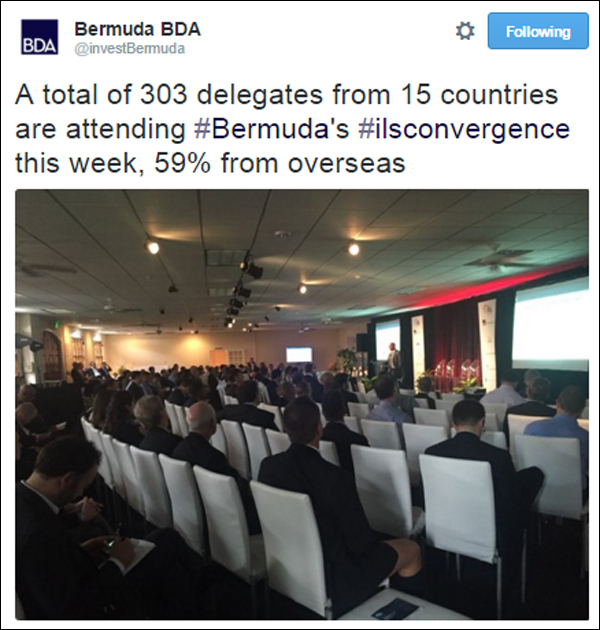 "We believe the ILS business is here because Bermuda has a renowned business infrastructure, first class service providers and a highly regarded regulatory environment."
Kathleen Faries, CEO of Tokio Solution Management and Deputy Chairman of ILS Bermuda organizing committee said, "The genesis of this event was to give key decision makers time to network and discuss ways to do business together, and there is no better place to do that than Bermuda – where risk can be sourced, managed, structured and valued.
"Recognizing the current challenges in the industry, Bermuda continues to evolve with the risk transfer marker, further reinventing itself and maintaining its leadership position in this new converged world."
Proceeds from the sponsorship of Keynote speaker, Jimmy Spithill are being donated to the Endeavour Program, a Community Sailing Project directed by The America's Cup with some of the biggest names in the marine industry taking a leadership role.
The three main pillars to the Endeavour Program include a cross-curricular education program, youth sailing and College Sailing internships with Oracle Team USA. The program focuses on Science, Technology, Engineering, Arts and Math.
Initial feedback from delegates and sponsors indicates Convergence 2015 was a tremendous success.
Expectations were exceeded on the number of delegates with 59% of delegates coming from overseas including from Australia, Canada, Cayman, Colombia, Italy, France, Germany, Hong Kong, Japan, Monaco, Switzerland, the United Kingdom and the USA.
ILS Bermuda said they "will continue to work with industry and government to underscore the sophistication and substance of Bermuda's infrastructure."
The next Convergence event dates will be announced in due course.
Read More About