[Updated] Saying that they believe the airport redevelopment project is a "bad deal for Bermuda," the People's Campaign released a flyer and also encouraged Bermudians to attend the information session on the project scheduled for 5.30pm this evening [Nov 18] at the Cathedral Church Hall in Hamilton.
The flyer states, "The Minister of Finance is well-known for telling the taxpayer that 'there is no such thing as a free lunch'. This is indeed true in the case of the airport development deal as it too will come with a price.
"The Bermuda Government has publicly stated that the Airport Redevelopment will cost an estimated $249 million. In addition, the Government will also forgo future revenues and expenditure relating to the Airport.
"To pay for this redevelopment, departure tax has been increased from $35 to $50 per passenger. In addition, a new $16 per person airport improvement fee and an increase in the aviation security fee was implemented this year.
"Based on current budgeted figures, surplus revenue generated by the airport is estimated to equate to approximately $20 million per year.
"As MP Richards has indicated that the airport concession contract will be for a 30-year period, it is estimated that the OBA government will forgo a surplus in revenue of approximately $600 million."
"The Foregoing of revenues will undoubtedly have a negative impact on Government financial position."
Update 4.00pm: In response, an OBA spokesperson said, "The People's Campaign clearly have a hidden agenda. If we proceed with the re-development of the airport terminal, it comes with a large list of benefits and no drawbacks.
This "unofficial arm of the opposition party" continues "against the path to progress," the spokesperson said. "This political gamesmanship is obstructive to the people's agenda to get Bermuda back on track.
"The Airport Re-Development Project is one of several initiatives by the Government aimed at restoring Bermuda's economic footing and returning the Island to full employment.
"The fact that the unnecessary seeds of discontent are being sown based on misinformation, innuendo and conjecture is disappointing.
"The fact that one of Bermuda's revered churches and two of the Island's most powerful trade unions are seemingly in cahoots to block public policy advancement should be alarming.
"This group continues to come forward with wild allegations and a ferocious opposition to the creation of literally hundreds of jobs for Bermudians."
Update 6.40pm: This evening's information session on the airport is underway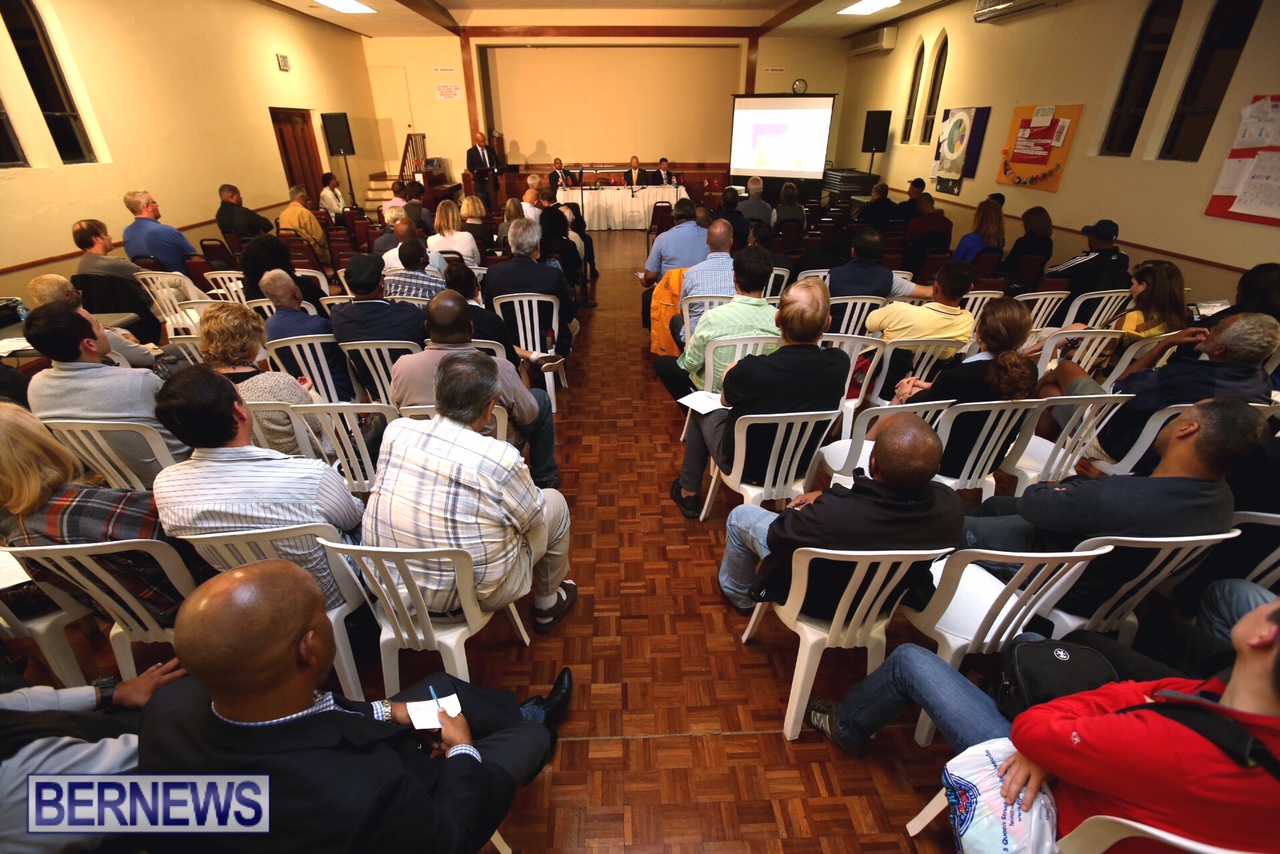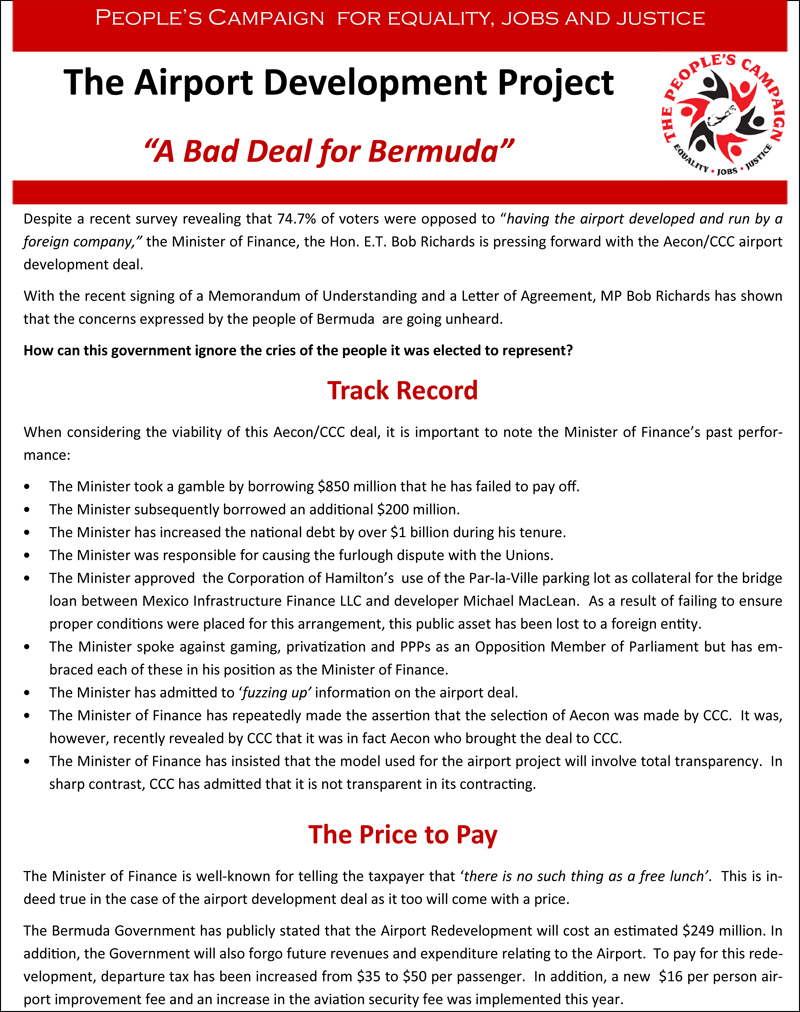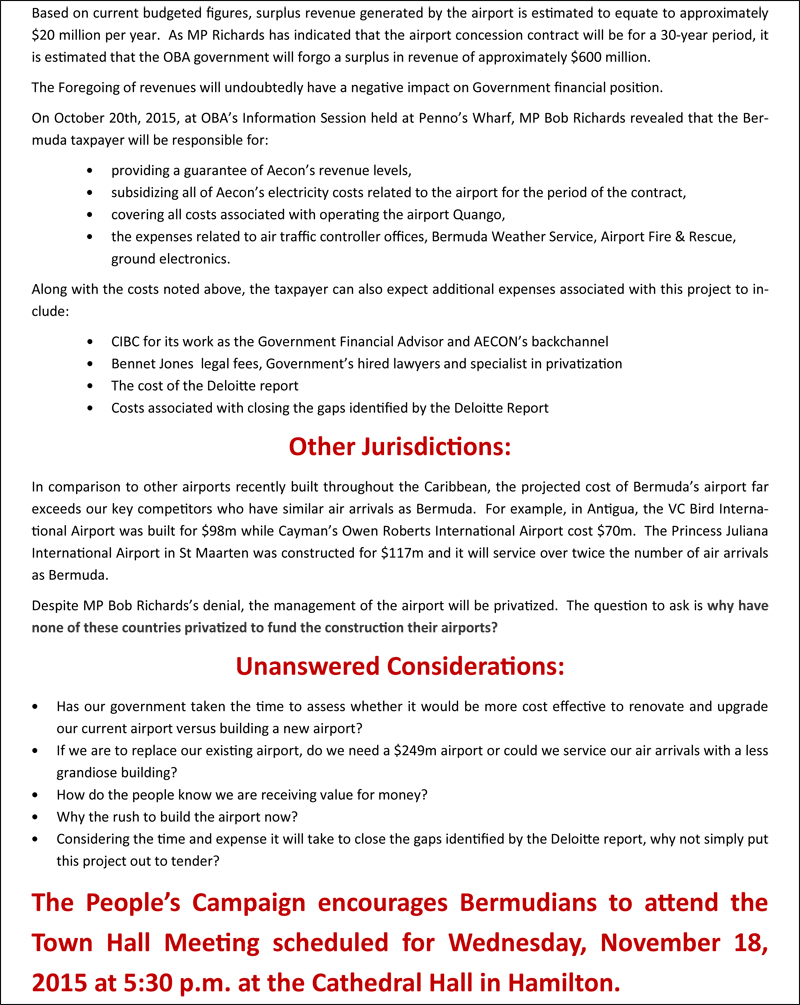 Read More About