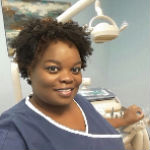 Dr. Yvonne Chirimuta [pictured left], who worked with the Department of Health for 12 years and brings with her more than 15 years of experience, has joined Fresh Breath Dental.
A spokesperson said, "Dr. Yvonne Chirimuta is a dentist with over 15 years experience. She obtained her qualification in Bachelor of Dental Surgery from South Africa.
"Over the last 12 years Dr. Chirimuta served the Bermuda community being employed by the Department of Health. Dr. Chirimuta has now joined Fresh Breath Dental located on the first floor of Cedarpark Centre, at 48 Cedar Avenue [Cedar Arcade].
"Her experience as a general dentist includes oral health education, prevention, diagnosis and treatment of oral diseases. She provides comprehensive treatment including restorative, root canal therapy, interceptive orthodontics, crown and bridge and surgical extraction of wisdom teeth.
"Her patients include children, seniors, special needs and the general adult population. She has hospital privileges with the Bermuda Hospitals Board allowing her to perform dental treatments on patients under General Anesthetic.
"Dr. Chirimuta has a passion for educating people about the benefits of good oral health and worked with the community, schools and various organizations. She has been nominated for the Chief Medical's Officer Award and was awarded a Certificate."
Read More About
Category: All