The Bermuda Lawn Tennis Association [BLTA] is set to launch a new island-wide tennis ladder on February 1.
The ladder, which will be made up of small groups of four players, aims to give players the opportunity to complete three matches over a one-month period. The results at the end of each month will determine one player being promoted to the group directly above them, and one player being relegated to the group directly below them.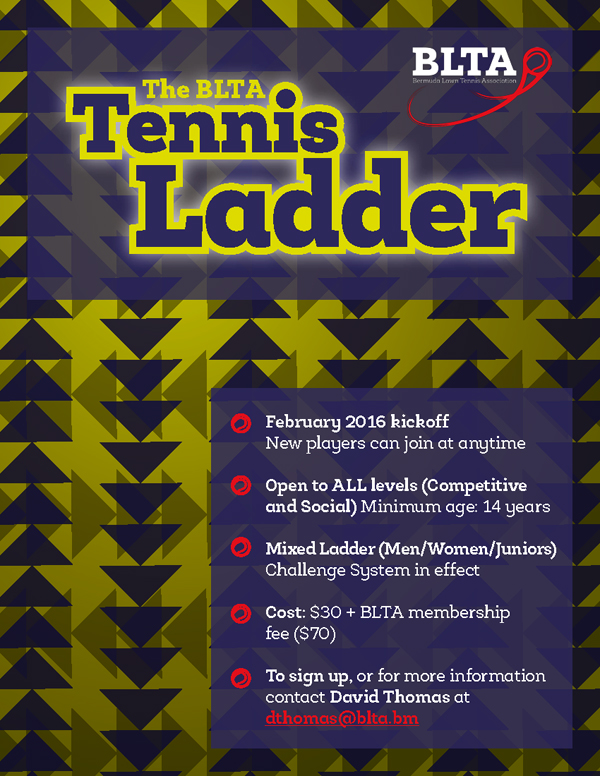 "I'm hoping that we get a variety of players joining the ladder. It's open to all players, so whether you're a top player looking to refine your game competitively or if you're new to the game and are looking to meet others in the same boat – this ladder is for you," said David Thomas, creator of the ladder.
Men, women, and juniors are all invited to join. Junior players must be 14 years old by December 31, 2016. Additionally, all players need to be current BLTA members. The annual BLTA membership fee entitles players to participate in all BLTA activities for the year.
The membership fee is $70 per adult player and $40 for juniors under 18 years old as at December 31, 2016. The entry fee for the ladder will be $30 per player.
Anyone wishing to join the ladder or who may have questions is encouraged to contact David Thomas at dthomas@blta.bm

Read More About