[Updated with video] The "island-wide roll-out of a new street lighting scheme" was announced today [Jan 6], with Minister Of Public Works Craig Cannonier saying it will "benefit us environmentally, financially and also from a public safety point of view."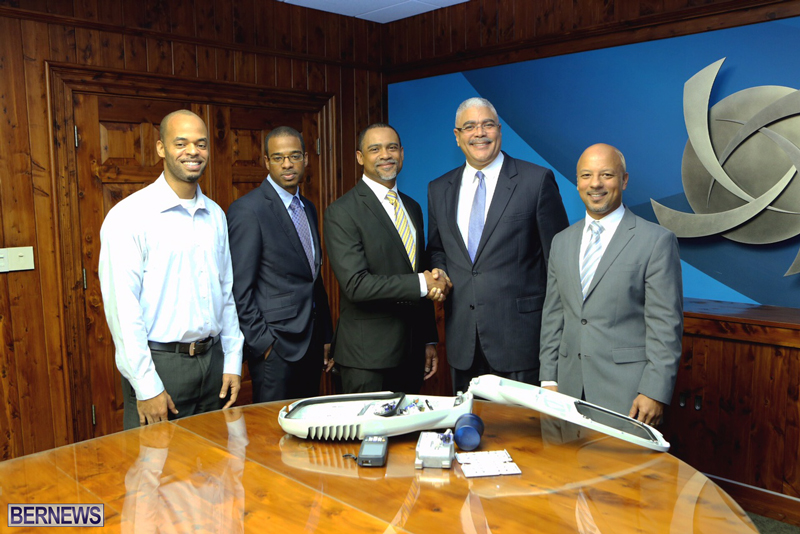 Minister Cannonier's Comments
Speaking at a press conference today, Minister Cannonier said: "Thank you for joining me today as I unveil an exciting new initiative for Bermuda.
"Today I am here with our partners at BELCO to announce the island-wide roll-out of a new street lighting scheme; a street lighting scheme which will benefit us environmentally, financially and also from a public safety point of view.
"But, before I share the details with you, let me provide some background of how we got here.In May 2014, the Government of Bermuda issued an RFP for the upgrading of the existing island-wide street lighting system from high energy consuming discharge lamps to a more energy efficient and longer lasting LED type. Proposals were received by five vendors.
"On March 31st 2015 Cabinet approved BELCO as the successful vendor for implementing the Government's LED Street lighting Upgrade Project, which will bring Bermuda in line with internationally recognized standards for roadway lighting. The formal contract was signed on September 3rd, 2015.
"Building on BELCO's 2014 LED Pilot Program implemented in the Trimingham Hill area, the installation phase of the Project will span two years and involves replacing approximately 4,000 High Pressure Sodium [HPS] fixtures with LED technology.
"This initiative represents a move towards utility-scale energy conservation, which is in alignment with the Government's recently adopted National Electricity Sector Policy.
"Within the contract, which offers a 10-year warranty, Government has accepted BELCO's 'Lease to Purchase' option based on a 10-year financing arrangement at the end of which, all installed LED street lights and their associated control and monitoring equipment becomes wholly owned by the Bermuda Government.
"This initiative will reduce the Government's monthly street lighting energy bill by approximately 57% [or $14M over the next 20 years] while providing improved and more consistent lighting along Bermuda's roadways.
"This project will have a positive environmental impact as it will promote energy conservation and achieve improved energy efficiency [approximately 988 tonnes per year decrease in CO2 emissions compared to existing street lights].
"It will also mean a reduction in light pollution, a higher level of safety for the community, better quality of lighting and improved light distribution.
"The previous high pressure sodium bulbs produced an orange-colored light with people reporting that they couldn't find where they had parked their cars at night! The LED light has much better color rendering and far surpasses the standard for street lighting.
"This is a project that is going to make a noticeable difference to night lighting and installation began in November. BELCO will publish traffic notices to alert the public to when crews are working, and to any potential traffic delays.
"In closing, I would like to thank BELCO for partnering with us on this project."
Denton Williams' Comments
BELCO COO Denton Williams said, "BELCO is very pleased to have been selected as the vendor of choice for this initiative.
"Not only does it allow us to support significant savings to the country overall, the upgrading of street lighting for the Island follows directly in line with BELCO's Integrated Resource Plan, which includes a significant focus on the need for energy efficiency and conservation moving forward.
"Increasing energy efficiency with new technology is in both the community and the utility's best interest as it reduces the requirement of and cost for imported fuel. When coupled with other efficiency measures this initiative can result in a reduced need for capital investment in supply-side plant.
"The rollout for this initiative began in November 2015. BELCO has two crews who have been fully trained on the new technology and who are dedicated to this initiative, which will take approximately two years to fully implement.
"Installation of the new LED lighting fixtures began in Dockyard and is moving from the West End of the Island to the East End. To date, approximately 80 LED streetlights have been installed, in addition to the 14 that were previously installed for the Trimingham Hill Pilot Programme in 2014.
"In addition to the benefits already mentioned by Minister Cannonier, there are a number of additional benefits directly attributed to the innovative technology that we will be used including:
Intelligent Asset Management
Streamlined maintenance support based on 'real-time' diagnostic data reporting directly into the BELCO Operations Centre.
Deployment of innovative controls and technology will help reduce BELCO's dependency on receiving reports from the public when streetlights are out.
On-board metering allowing for accurate billing vs. calculated bills
The new technology enables Government to be billed for actual energy usage vs. energy usage based upon projected hours.
More effective maintenance [i.e. Modular 'plug & play' parts]
Will no longer need to replace entire fixture, if just one component is no longer working
Built-in Surge protection"
Read More About