Bermuda is being spotlighted in the UK media again today [Jan 31], with the Daily Mail and Sun both running stories about Google's connection with Bermuda, with the Sun saying "its only presence is the tiny metal box bearing the number of the beast 666."
The Daily Mail article says, "Google has no office, no staff and little more than a plain PO Box numbered 666 on the sunny Caribbean Island of Bermuda. But it still sends £8 billion in profits a year to the island – which happens to have a 0 per cent corporation tax rate.
"Though this process has been branded 'immoral' by MPs, it is not illegal and Google says it has abided by international tax rules. The company also says its Bermuda operation does not impact the tax it pays in the UK.
Screenshot of the Daily Mail article: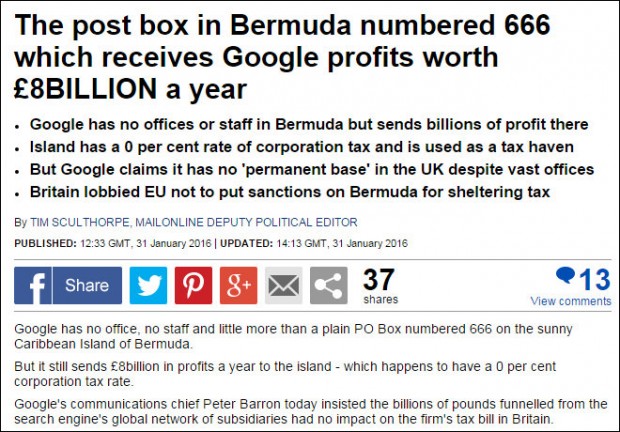 The Sun article says, "Tech giant Google is funnelling an estimated £8billion of profits a year through a nondescript postbox in Bermuda. The firm has taken advantage of the sunshine island's zero corporate tax rate to set up Google Bermuda Unlimited.
"There are no employees, no office and no signage to be found there. Its only presence is the tiny metal box bearing the number of the beast, 666, and housed at a post office building in the capital Hamilton.
"Google, which makes most of its money through online advertising, has been moving profits to the tax haven via Ireland and Holland. In 2013, it sent £7.5billion in global royalties to its Bermuda-based subsidiary, according to the company's own accounts."
Screenshot of the Sun article: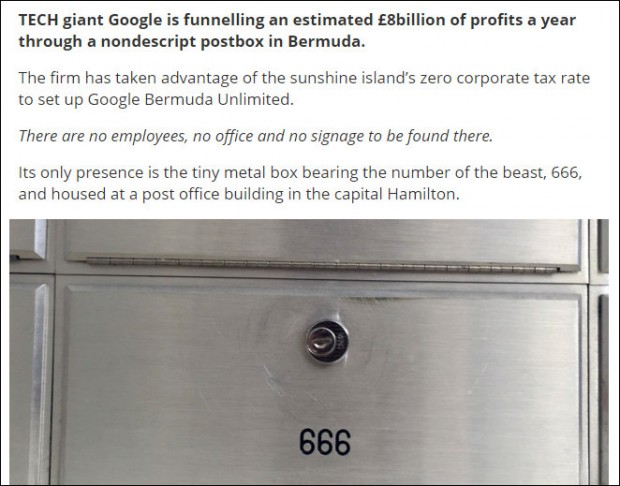 "Yet few people in Bermuda realise the tech giant holds its entire global earnings, excluding the US, on the island — including those who work at the very building housing the law firm," the Sun adds.
The Sun also reports they spoke with staff at a local law firm, which the tabloid described as having "a drab-looking office" which they claimed is "decked with plastic ferns, 1980s-style furniture and tacky oil paintings."
In addition to these reports on the "666″ post box, the UK's Observer newspaper is reporting that "Britain has complained to the European commission about an EU blacklist designed to hit tax havens, including Bermuda, describing it as misleading," adding that "Britain has been privately lobbying the EU to remove the tax haven through which Google funnels billions of pounds of profits from an official blacklist."
Read More About