News that Bermuda's Alona Lambert-Simons celebrated her 105th birthday, goalkeeper Nathan Trott signed a two-and-a-half year deal with West Ham United, three young children raised $500 for charity, and Roy Allan Burch was featured on the cover of German magazine Swim, were all some of the positive news stories from the past week.
In other good news, Bermudian Keena Simmons was featured as a "Jet Beauty" on the publication's website, Djair Parfitt-Williams scored twice for the West Ham Development Squad, Jessica Lewis was featured in Canadian magazine iRun, and Bermuda been named on both the Forbes Travel Guide's "16 Top Destinations For 2016″ and Business Insider's "21 incredible luxury destinations you should visit in 2016″ lists.
Additional good news stories included Leilanni Nesbeth making "outstanding progress" in both cricket and football at England's Bedes School, Clarien Bank's annual Holiday GiveBack Campaign raising more than $10,000 for Meals on Wheels, Tyler Butterfield signing with the "On" shoe brand, the Green family donating $5,000 to the Eliza Doolittle Society and Jonte Smith scoring twice in his debut for Lewes Football Club.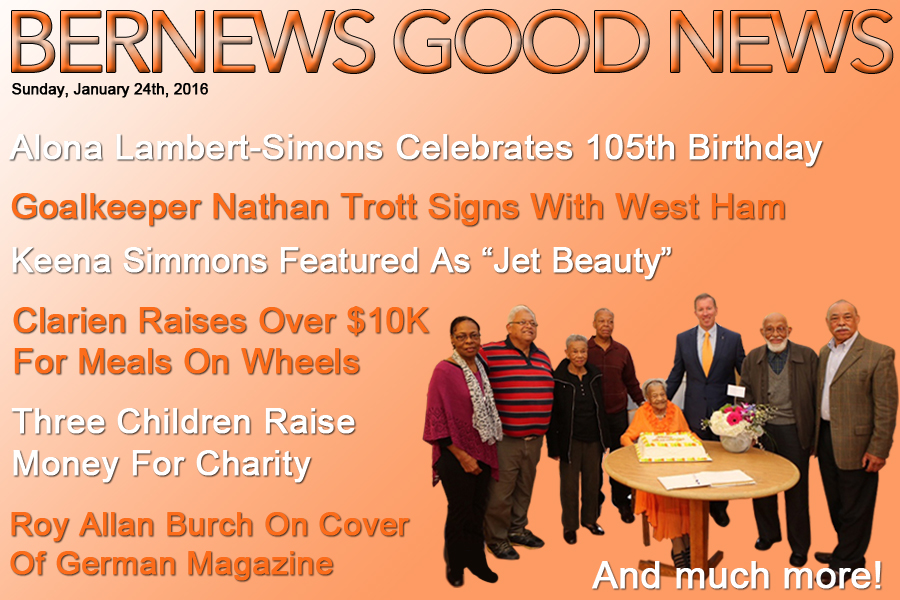 We also posted various community photo galleries, including coverage of Big Brothers Big Sisters celebrating 'Thank A Mentor Day', Alona Lambert-Simons' 105th birthday, the Paul Marsden Memorial rugby match, field hockey action, motocross racing and the UK's Royal Navy ship HMS Mersey in Bermuda.
In an effort to highlight some of positive news happening in our community, we supplement our standard morning and evening email newsletters with a special Sunday "Good News" email newsletter edition, which strictly focuses on the positive news from the past week.
You can sign up to have the free newsletter delivered via email here, and/or access the links below. In addition, for those who like positive news, please feel free to visit our sister site ForeverBermuda.com, which seeks to showcase the best of Bermuda as well as provide information and listings for visitor related services.
Links to some of the 'good news' from the past week are below:
Read More About